Compressors are amazing musical components, and they are known to be excellent in reducing a dynamic range of audio signals. There are various compressors that are available in the market, and each of them has different types of abilities and specialties in the variation of compression.
With an even more extensive compressor library, you will be able to achieve an intense variety of sounds. This can be used for general music production, processing vocals, drums, and other instruments, and multi-band processing.
In this article, we will be taking a look at the top compressor plugins that can be found in the market and what are the best things you should know about them.
1. UAD API 2500
Editor's Rating: 4.5 out of 5 stars

Technical Features:
Uses API's THRUST circuit
19-inches and is rack-mountable
Dual-channel design
Selectable old or new compression
Two front panel VU meters
First on our list is this fantastic compressor model from UAD. This API 2500 Bus Compressor has become a permanent fixture in many of the world's top producers and engineers. It is created with Paul Wolff's API circuit design, which makes it equipped with movement, tone, and energy to check out the stereo mixes and subgroups, unlike other types of compressors.
With this compressor, you have the opportunity to contour your mix's stereo interaction with percent-based with Left & Right Link controls. You had the chance to choose between "Old" and "New" compression, with feed-forward sounds and feedback. You can also glue the stereo mixes together with the API 2500 compressor. This plug-in only feature includes Wet and Dry parallel processing and Headroom for customizable operating levels. You can also enjoy artist presents from Adam Hawkins, Ryan Hewitt, Jeff Balding, and Vance Powell.
2. Softube Valley People Dyna-Mite Plug-in
Editor's Rating: 4.5 out of 5 stars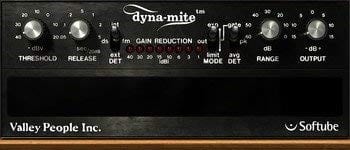 Technical Features:
Superbly snappy limiting
Useful menu selection
Unusual limiting is possible
Snare drum, overhead cymbals limiting, and kick drum limiting
Transistor array VCA design
Valley People is one of the most famous brands that offered different musical devices in the 70s and 80s, like Kepex gates, Maxi-Q EQ, and the Dynamite limiter and expander. It is famous for making use of the company's patented transistor array VCA design, as well as the full plug-in emulation treatment.
It comes with a display panel that looks like a simple processor with gating, expansion, and limiting at first glance. But, this compressor offers more than that and can provide over 18 different operating modes.
Some of its options come with average detection modes, pre-emphasized side chains, and a range knob to adjust the maximum amount of gain reduction, usually from 60 dB down to 0 dB. This can be used with a limiter, unlike the earlier versions of this processor.
This product also features two unique pieces of novel technology: anticipatory release computation and linear integration detection. Additionally, this compressor shows that it is one of the best limiters in the market. It is great for adding pop and snap, especially for congas, snares, and kicks.
3. Focusrite Scarlett 4i4 (3rd Gen) USB Audio Interface with Pro Tools
Editor's Rating: 4.5 out of 5 stars
Technical Features:
A smooth workflow and high reliability
Easy to use interface
High-performance converters allow mixing at 192 kHz
Quickstart tool to make running easier than ever
Includes Pro Tools First Focusrite Creative Pack, Ableton Live Lite, Softube Time and Tone Bundle, Focusrite's Red Plug-in Suite, 3-month Splice subscription, and your choice of one free XLN Addictive Keys virtual instrument
Next on our list is this third generation of Scarlett audio interfaces. It offers lots of new upgrades, one of which is the Air Effect. This emulates a transformer-powered preamp sound, which gives the effect of a little high-end sheen to the entire signal. This new generation model is also equipped with more Headroom, more configurations, a USB-C connection, a dynamic increase in range, a louder and cleaner headphone driver, and a panel aesthetic cleaner.
Because of its reasonable value and straightforward approach, this is one of the most attractive audio interfaces that beginners usually go for. This Scarlett Solo comes with a mic preamp, an instrument input, and the product line can be expanded and improved.
Its software similarly offers a simple design with a practical layout that still offers good mixes. But, the focus of this model leans toward efficient workflow, analog sound, and ease of use.
4. dbx 560A Compact, Professional Compressor/Limiter
Editor's Rating: 5 out of 5

Technical Features:
True RMS gain reduction
Input and Output meter displays with calibration control for different levels
Exclusive infinity compression with negative ratios
Precise RMS gain reduction
Over easy and classic hard knee compression
Next on our list is one of the most well-known 500 series dynamic modules when it comes to compression, the DBX 560A. It is a natural-sounding dynamic processor, and it can offer a wide-range threshold, ratio, and output controls with true RMS level detection.
Additionally, it comes with a classic hard-knee compression and an OverEasy mode, also known as the soft knee mode. It allows the incorporation of release times and dBx's program-dependent attack. It is also equipped with a feature called infinity + inverse, which basically means that it can decrease the output level if the input goes over the threshold beyond unity gain. This feature would be very convenient in live performances where extremely loud signals need to be mixed and controlled.
5. WesAudio Dione 500 Stereo Compressor
Editor's Rating: 4 out of 5 stars
Technical Features:
Famous bus compressor design
Parallel compression
Configurable harmonic distortion
110mA power requirement
10kohm Input and Output Impedance
One of the most flexible compressor units, the _DIONE NG500, gets the fifth spot on our list. This model is created for the purpose of blending the analog sound with digital flexibility, and it is able to deliver to that promise. This compressor is able to control, recall, and store analog hardware directly from a DAW, as well as to follow the automation required.
Almost all of the users rave about the flexibility of this item – especially when it becomes a part of a hybrid workflow because of the DAW integration. The THD options also offer a great quality of sound. Overall, this item truly can be considered as a great component that is perfect for people who like to play around in the box but also wants an analog compressor that they can integrate into the workflow. It offers a fast attack, which makes it a final compressor to glue all the tracks together.
6. TK Audio BC501 Stereo Bus Compressor
Editor's Rating: 4 out of 5 stars
Technical Features:
THD Circuit
Wet and Dry Blend Control
Side Chain input and filter
-20 dB to +20 dB Threshold
+110 mA Power Requirement
The BC501 is one of TK Audio's best-selling compressor models. It is preferred more by the users because of its great blend of features that are based on the two earlier models made by the manufacturer: first, the BC1-S rackmount compressor, and the BC2-ME mastering compressor.
The said features include a THD switch that adds harmonics to the signal, the three High Pass Filter settings of 80 Hz, 150 Hz, and the ratio settings of 1:25:1 and 6:1. These features make it easier for the parallel compression to be applied, mainly due to its built-in dry and comp knob.
All of these controls are stepped for a precise and easier recall. This model is also built with a sidechain input, which is provided through a 3.5mm TRS to connect the external hardware.
The BC501 is mostly used by home studio owners and recording engineers for mix-bus compression. They recommend how great this model blends while using little gain reduction and low ratios. Overall, its versatility makes it one of the best models to try out.
7. FMR Audio RNC1773 Really Nice Compressor
Editor's Rating: 4.5 out of 5 stars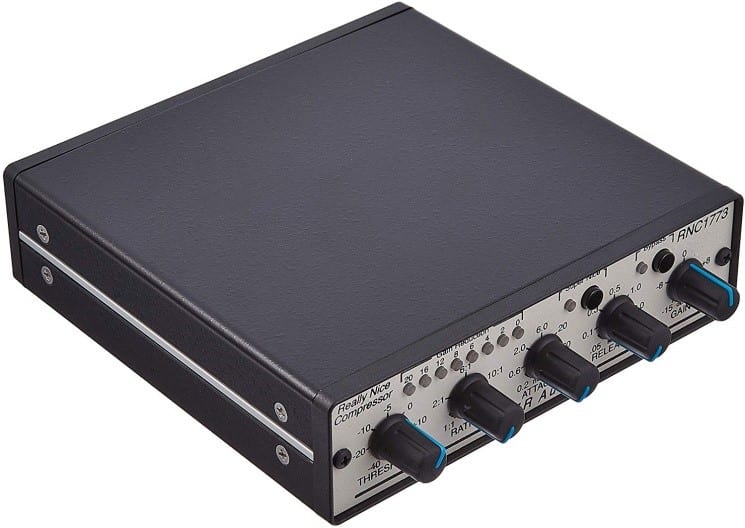 Technical Features:
High fidelity stereo compressor
Virtually invisible sound with minimal artifacts and a clean tonal character
2 modes of operation: normal and SuperNice
8 segment LED meter
5 rotary controls for precision compression control
The RNC500 is a world-famous rackmount compressor, mostly because of how simple it is used and how affordable this tool is. Moreover, it also has an improved dynamic fidelity over the original model of this compressor. It features over-current protection to protect the entire stack from major damage. For safety, it also comes with an early warning detection for a power supply that puts the module into bypass mode in order to avoid pops that get powered down.
Its best features include Normal Mode and SuperNice Mode, which allows the customization and flexibility of the compression options. The normal mode acts like a regular hard knee compressor, while the SuperNice mode acts as a three-band transparent sounding compression.
Many users rave over this model because of its transparent sound and very affordable price. It is also impressive in its metering abilities. So, if you are looking for a compressor that offers excellent performance, you should definitely consider getting this one.
8. KLARK TEKNIK KT-2A
Editor's Rating: 5 out of 5 stars
Technical Features:
10 Year warranty program
Completely discreet signal path with an adjustable stereo-link connection
Auto-ranging universal switch-mode power supply
The vintage-style meter features output and gains reduction
Custom-built Midas input and output transformers
The KT-2A is made inspired by the legendary Teletronix LA-2A. This pioneering model in the industry of audio processing inspired this KT-2A classic leveling amplifier. But the great thing about this unit is that it is extremely affordable, and it has features that are meant for the 21st century. It is perfect for many home studios mainly because it allows the user is mastering quality compression and limiting at an excellent price point.
This KT-2A, as inspired by the original LA-2A amplifier, is famous for its smooth musical sound. Many audio engineers have utilized these features from tracking to mastering, and all the other stages of the recording process.
This is also equipped with a vintage lag-free optical attenuator based on the same technology used in the LA-2A. For the best experience, the KT-2A is created with optimum quality discreet components, which all meet or exceed the specifications of its predecessors. The KT-2A brings unmatched precision and optimum signal integrity into the new age of the audio industry.
9. BEHRINGER, QX1202USB Premium 12-Input 2-Bus Mixer
Editor's Rating: 4 out of 5 stars
Technical Features:
Built-in stereo USB and Audio Interface
Free audio recording, editing, and podcasting software
150 instrument and effect downloadable plug-ins
Studio-grade compressors with super-easy one-knob functionality
Ultra high quality Klark Teknik FX processor with 100 presets
Next on our list is this premium analog mixer with high Headroom and ultra-low noise from Behringer. This comes with four states of the art XENYX Mic Preamps, which is comparable to stand-alone boutique preamps. It is equipped with studio-grade compressors and partnered with easy one-knob functionality, and control LED for a professional vocal and instrumental sound.
It is also an ultra-high Klark Teknik FX processor with 100 preset options, including delay, pitch shifter, chorus flanger, reverb, chorus, and others. There are other FX send controls per channel for internal FX processors. It allows the effortlessly to achieve premium-quality sound, which is thanks to four onboard studio-grade XENY Mic Preamps and other musical channel equalizers.
The best part of this set is dynamic compression. It is powered with one knob use, which would be extremely easy for users, even those who are just starting. When you dial this knob, you will gain access to the perfect amount of compression for vocals and instruments, which will, therefore, create powerful mixes with clarity and punch.
10. EarthQuaker Devices The Warden V2 Optical Compressor Guitar Effects Pedal
Editor's Rating: 4 out of 5 stars
Technical Features:
Complete tone enhancement tool designed around a stereo preamp
Handles a wide variety of frequencies from synthesizer machines, bass guitars, and electric guitars
Level control will boost the signal up to 5 times
Optical compressor with features usually found in studio quality levels
Complete control over attack, release, sustain, and ratio
Another entry on our list is The Warden V2. It is an optical compressor with features that can be usually seen in studio-grade units, which is why people think so highly about them. It is excellently manufactured through the use of top-quality components, and they are internally powered by 18 volts. One of the best characteristics of this brand is its gain and sustain.
This brand is also well-known for having complete control over attack, release, sustain, and ratio. The Warden V2 can accommodate heavy squash with fast attack and release, and subtle compressions that feel like they are barely there. Overall, this model of compressor really proves to be a great buy.
Compressor Plugins Buying Guide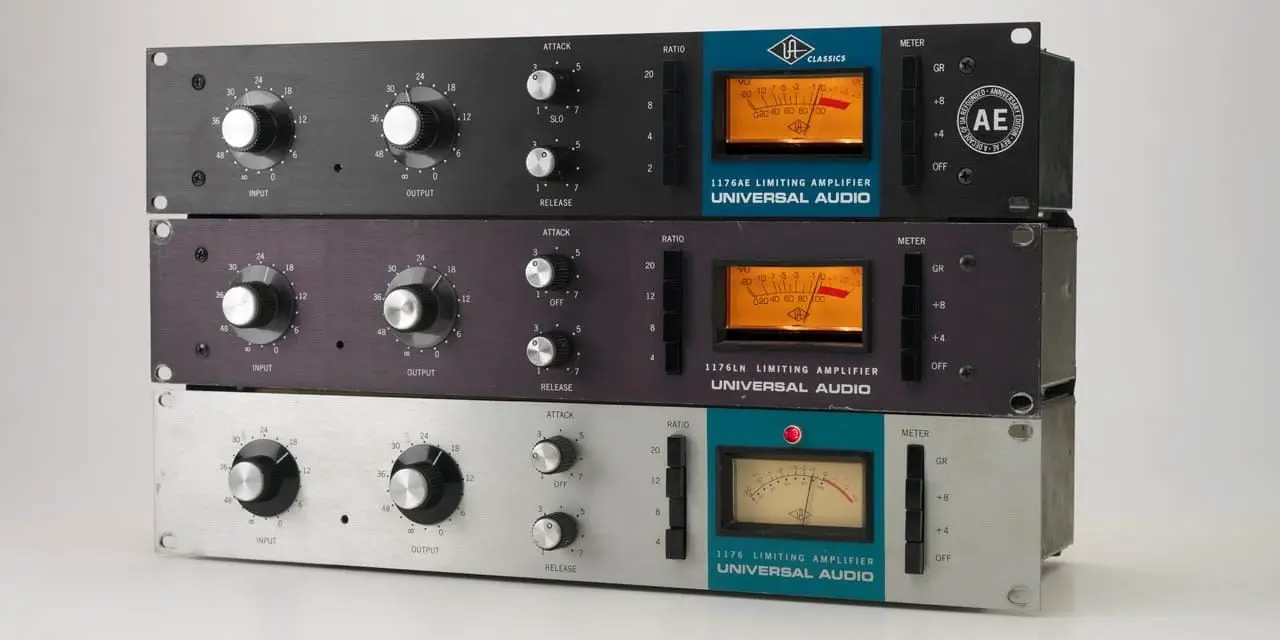 Type of compressor – The first thing that you should consider is what specific type you are interested in purchasing. Here are the most common options that are available.

FET – Field Effect Transistor compressors are most commonly used for the quick response in compression, and their trademark sound produces a punchy sound.
Variable-MU – These compressors are known for the warmth and distinct tone it produces. Their design uses input voltage changes to alter the bias of the tubes that control the gain reduction stage.
Optical – These compressors use a light source to identify the gain reduction, and they are known to have a natural smoothness in response time because of the delay of triggering the attack and release.
VCA – The Voltage Controlled Amplifier compressor is known for the quick attack and release of its parameters.

Actual usage – It is important to identify what you plan on using the compressor for, as it demands how high quality the model you actually need should be. It can either be for mixing, mastering, and tracking. You should also decide whether the sound source that you would use is vocals, strings, or base.
Hard knee versus soft-knee compression – There are two possible options for the kind of compression you will encounter – hard knee or soft knee. Hard knee deals with reducing the signal at once when the threshold is reached. It is mostly used on instruments like snare drums. On the contrary, the soft knee compression is used for more natural sounds and for sustaining instruments like strings.
Conclusion
Compressors are truly great innovations and technologies to study if you are serious about music production and live to perform. They are perfect for people who want to build a home studio, most especially for sound engineers who are in need of toys to tinker with. The best one to get will always be influenced by how much you know, what you need to learn, and what you are interested in pursuing.