Do you love music and going to different jamming sessions? Do you enjoy partying to the wee hours of the morning and dancing your heart out? Are you a performer and a musician that plays your songs to crowds of thousands of people? The feeling of music and the adrenaline rush surely seem amazing, but you should also take note of giving importance to your ears.
One of the simplest ways to protect your ears is through earplugs. Here is some great news for you! You do not have to search far and wide for the best models that you can go for! In this article, you will find the best models of earplugs that can help you have a better listening experience while providing you a way to protect your ears.
Editor's Rating: 4 out of 5 stars – BEST SOUND QUALITY
Technical Features:
Designed to fit underneath hats, helmets, and other headgear
Sits snugly in the outer ear without protruding
Includes neck cord and carrying case
One pair of high fidelity earplugs with standard fit 3-flange ear tips and removal tabs
Not recommended for use with impulse noise
First on our list is a highly recommended brand for the entire music industry. Its most considerable quality is the superior sound quality that it has to offer. It has a response that is very near to flat, meaning all of the frequencies are at equal levels. These earplugs make its users feel as if every sound is turned down a notch, but this is exactly how a musician's earplugs must feel like.
These pair has the ability to shave off 20 decibels. It is available for purchase in both regular and large sizes. The purchase also comes with 3 silicone tip options, which come in various sizes but with a similar three flange design.
Many concertgoers and musicians have been committed and loyal to this brand for a very long time. Compared to other models, this model is known to provide the best sound quality and noise reduction.
Editor's Rating: 4 out of 5 stars – BESTSELLER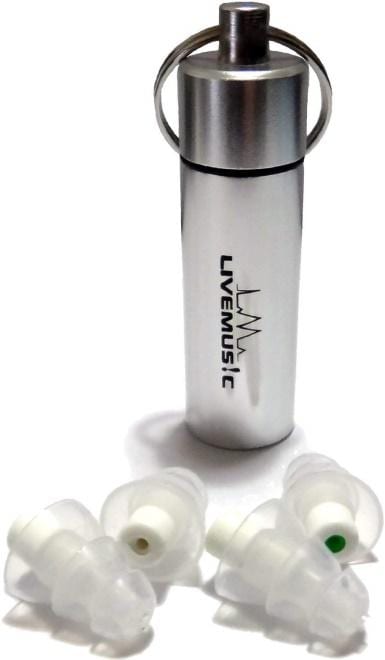 Technical Features:
Natural soft silicone material, non-toxic and hypoallergenic
Precise triple flange design and corned shaped earplugs
Professionally retain music, voice, and conversation
Amazing hearing protection – two pairs in one package
Lasts for 6 to 12 months of continuous usage
If you are seeking a great decibel reduction in your live music experience, you are in for a treat with the HearSafe earplugs from LiveMus!c. Unlike the conventional type of earplugs, this accessory is equipped with a precision filter with varying levels of strength. This filter weakens the noise in the background and high-frequency noise attenuation. This feature keeps useful music and speech signals at bay, which is perfect for drummers, percussionists, clubbing, and other musicians.
Like many types of earplugs, this set comes in the triple flange design, but it is shaped like a cone, which allows it to form better inside the ear canal. Because of its hypoallergenic development, it will prevent irritation even when in extended use.
You can opt for two filter choices with this model. The white filter is able to reduce 29 decibels, while the green filter is able to reduce up to 23 decibels.
These earplugs are ideal options for those who deal with heavy sounding music, as the noise reduction it comes with is highly satisfactory.
Editor's Rating: 4.5 out of 5 stars
Technical Features:
Three sets of exchangeable filters for low, medium, and high precisions
Made with soft, durable, and flexible Alpine Thermo Shape material
Selective absorption for optimal protection
Weighs 2.08 ounces
Great noise reduction abilities
Another reputable brand on our list, this Alpine MusicSafe Pro Earplugs are known for being able to provide high quality protection, and they are usually manufactured with layers of filters that significantly reduce volume for live music shows.
It is mostly used by different musicians, and there is no need to wonder why. Its great noise reduction partnered with the clear sound quality partnered with the soft and comfortable earplugs makes it truly a favorite among many users.
The purchase of this Alpine safe set comes with three filters that are interchangeable and containing different levels of reduction. The heaviest from this group of three has the ability to reduce 27 decibels. This Pro version, compared to their Classic version, comes with an extra filter so that you can easily tweak the experience much better.
One thing unique for this brand of earplugs is that it comes with a device for filter insertion, which allows an easier and safer way to push the earplugs properly into a person's ear canals.
Editor's Rating: 4.5 out of 5 stars – BEST FOR SENSITIVE EARS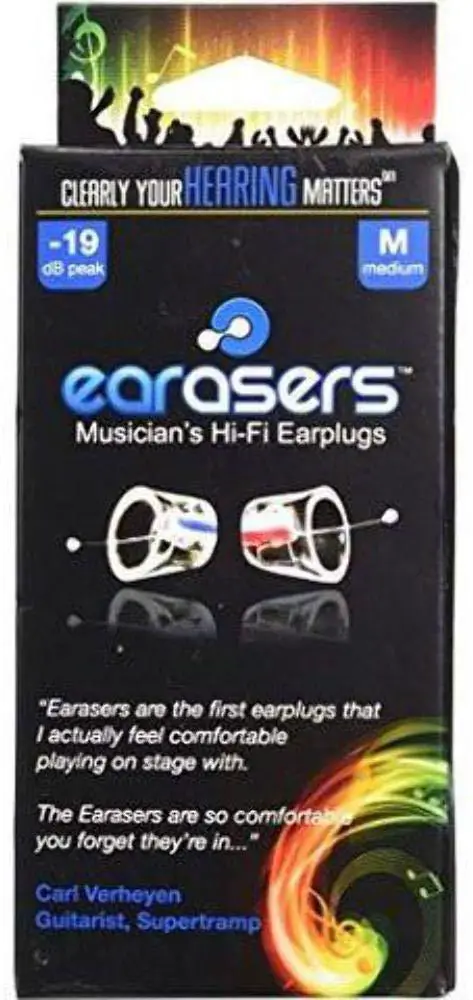 Technical Features:
Manufactured by a 45-year-old hearing aid company
Unique attenuation V filter to provide an overall 5 dB EPA protection rating
First flat frequency response earplugs
Soft silicone design
Smart Seal Technology
Earasers is another reputable company that is trusted by many musicians and concertgoers alike. It is perfectly made for people who fill uncomfortable with the fit of the traditional triple flange design that can be quite irritating to the ears when worn for a long time. In this model, there are silicone oval tips that adapt to the ear canal to make sure that absolute comfort is achieved.
This Earasers model, similarly to the earplugs on our list, is capable of providing the best type of sound quality – perfectly appropriate for adequate noise reduction.
In every purchase, you can choose from three filters: 19 decibels, 26 decibels, and 31 decibels. These can be bought separately if you want to experience a great variety.
Overall, this earplug is perfect for people who commonly experience earplug fatigue or have sensitive ear canals. As these models have oval designs, the shape allows more comfort compared to other models.
Editor's Rating: 4.5 out of 5 stars – VALUE FOR MONEY
Technical Features:
Average volume reduction of 19 decibels or 25 decibels
Low profile design
Preserves sound quality
Easy to clean and hypoallergenic silicone material
Filters can be either short stem or long stem
The next earplug on our list is this model from Rave. It is loved by many users for its great price, partnered with a commendable performance. This comes with two filter options: the clear colored one is set at 19 decibels, while the white filter is set at 25 decibels.
Because of these options, you will be able to choose which earplugs you will be going for depending on your actual need for the situation. The purchase also comes with a pouch for ease of storage and extra security.
This model of earplugs is ideal for people who have constraints on their budget or people who want to try out using earplugs. Though it is very simple in terms of design, it offers great performance and some variety for their users.
Editor's Rating: 4.5 out of 5 stars – INNOVATIVE DESIGN
Technical Features:
Virtually invisible through clear outer shells
Form-fitting low-profile silicone earbuds
Small, medium, and large sizes available for different ages and physiologies
Includes a highly portable case for travel
Professional acoustic earplug pairs to isolate and filter things clearly
The Vibes brand of earplugs made a debut on the reality show Shark Tank and has made its way into the hearts of many users – mainly people who have noise triggers, concert-goers, and musicians. This model type has a 22-decibel attenuation, which makes it perfect for everyday use, especially for loud music events.
These earplugs are the ideal companion for your ear protection without having to sacrifice for sound quality. These earphones are great for noise reduction that they will not lower the damaging decibels; they also increase the clarity of the musical experience and is memorably immersive.
They are not the usual earbuds that will hinder you by muffling sound. They allow you to carry on a conversation or listen to music without having any hitch. Overall, it makes you enjoy clear, clean and controlled sound at every single listening experience.
Editor's Rating: 4.5 out of 5 stars – PERFECT ONSTAGE EARPLUGS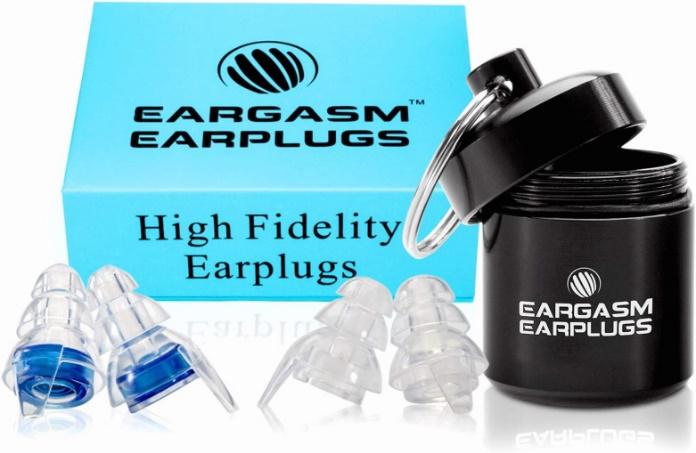 Technical Features:
Discreet design
Made from hypoallergenic soft silicone
Offers up to a 21-decibel drop in noise levels
Has multiple shell designs to provide the perfect fit
Comes with an aluminum carrying case
One of the most popular choices that are very common in music festivals, these earplugs from Eargasm's High Fidelity earplugs provide outstanding features. It offers a satisfactory noise reduction at 21 decibels, two options of ear tips in terms of size, and a portable and durable case, overall, leaving the user leaving wanting for nothing.
The earplugs are made of hypoallergenic silicone that is very durable. It is also sweatproof and comes with a waterproof layer. It also does not attract much attention because it is colorless, and it also has a pull tab that makes it very easy to remove when needed.
These earplugs can be considered as one of the most professional options on this list, and it is perfectly modeled for serious, onstage usage. Because it is waterproof and hypoallergenic, it is perfect for musicians who go crazy with engagement to their audience during their concerts.
Editor's Rating: 4.5 out of 5 stars
Technical Features:
High fidelity and precise noise filtration
Low profile design with high transparency
Perfect for long hours of wear
Made from hypoallergenic silicone and is latex-free
Durable and can last for many years
Next on our list is this pair of EarDial HiFi earplugs. It comes with a clear silicone construction, and it can provide the best type of protection from very loud and noisy environments, making it one of the go-to options for musicians of all genres.
The high fidelity earplugs are equipped with a filter that is perfect for noise cancellation while retaining the amazing music clarity and clear conversation. For ease of use, this set of earplugs comes with a small tab for pulling out. For portability, it also comes with a small and compact aluminum case. If you have sensitive ear canals, you do not have to worry about the plugs are hypoallergenic and will not irritate your ears.
One notable feature of this brand is a mobile iOS app companion that helps the user detect and warn against high decibel noises in the surroundings. This can calculate how long the earplugs can provide protection in environments before some damage in your ears.
Editor's Rating: 4 out of 5 stars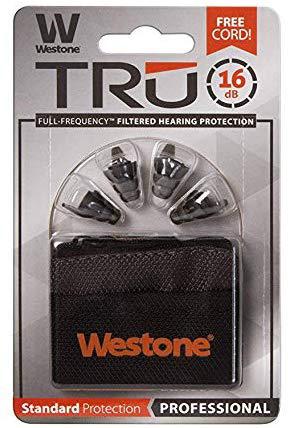 Technical Features:
Designed for professional musicians and avid concert-goers
TRU WM16 provides a tuned, flat attenuation
Ergonomic design for maximum comfort
Comes with advanced filter technology
Enjoy the original sound quality
The Westone brand that has provided the best type of solid ear protection is the manufacturer of our next brand in this top 10 list. This model, in particular, is one of its best offerings with high quality filters that are available at a relatively lower price.
Its noise attenuation filters are set at 16 decibels, and this allows for high-frequency roll-off. This is the best option for people who feel that they are sensitive to high and loud sounds and would rather hear sounds more smoothly without the irritating shrills.
Because this brand is trusted in the industry of hearing protection, their models usually offer glowing reviews to back their promises up. The package comes with replaceable ear tips in both standard and large sizes, equipped with a small tab to help removal, and a carrying pouch.
Editor's Rating: 4.5 out of 5 stars – EXPERT RECOMMENDED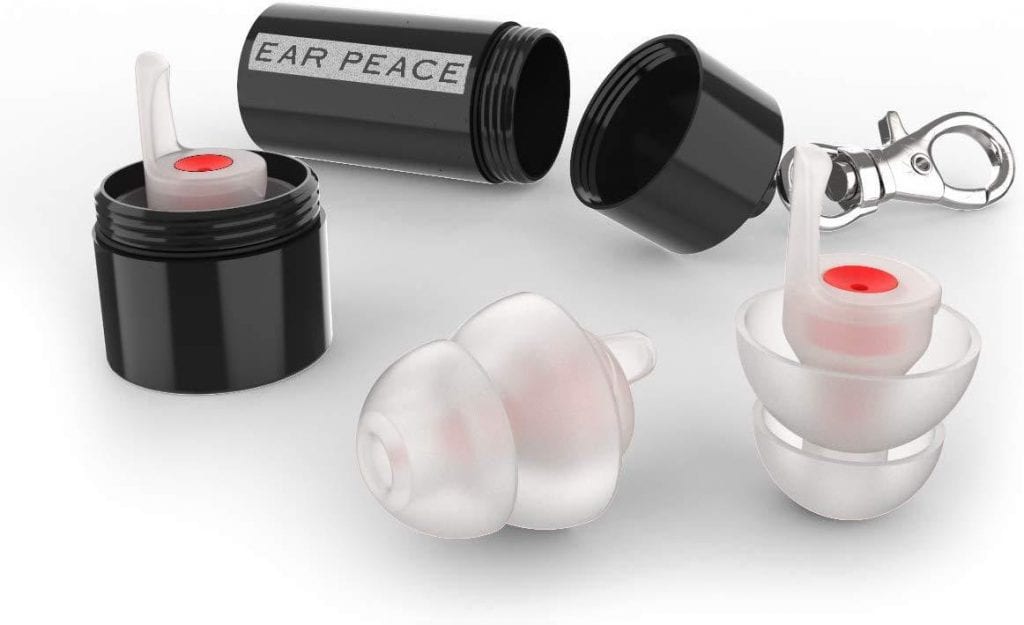 Technical Features:
Industry-leading option
Preferred by Metallica, RedBull, and Lollapalooza
High quality noise cancellation
Premium silicone earplugs with a dual-plane design
Soft and hypoallergenic reusable earplugs
The final brand on our list is this earplug model from EarPeace that is made for concert fans and musicians, too. This HD model comes in three noise attenuation filters: 26 decibels, 20 decibels, and 17 decibels, which leaves the user to decide their volume reduction.
With the best sound quality reduction, these earplugs can easily adapt to different types of set-ups from an acoustic show, a rock concert, or a crowded all-nighter rave. It is also designed with a great cooling mechanism to keep the earplugs in place while partying and intense movements.
This model, overall, is perfect for concert fans and live musicians. This is mainly due to the availability of three levels of production and people who are sensitive to high and shrill sounds. The brand has been in operation for 10 years and promises a simple thing: allowing their users to hear and feel better when the EarPeace earplug is worn.
Factors to Consider When Buying Ear Plugs
Your actual industry – As a music lover, you will be able to find a wide range of options to choose from that are actually narrowed down for musicians and concert-goers. These ensure that all ranges of frequencies will be heard with different ratios for noise reduction.
Certifications, ratings, and standards – The earplugs that you should purchase must meet the basic requirements for different international standards. It can be with performance, safety, and design. The different parameters you should go through are decibels, frequencies, NPR ratings, and other criteria.
Brand – You should always go for a trusted brand and manufacturer for the earplugs that you will choose. It is recommended to get one with years of experience and a great reputation in the market.
Actual Feel – A great option would be to be able to try these earplugs. If you can get the chance, it would be best to have an actual try-on.
Recommendations and reviews – When shopping for earplugs, it is very important to read through reviews from actual buyers and users of the product. This will give you actual feedback and will allow you the confidence to make a sound decision.
Conclusion
For professional musicians and music lovers, earplugs will always be a must-have and are perfect for noisy environments, and they will help you with hearing and allowing you to enjoy the music. To make sure that you will enjoy the item that you will buy, you should think about the features that you are most interested in and breeze through the high quality options that we quickly reviewed above. Each of these models offer a great experience, so feel free is to check on each of them and find your perfect match!