Imagine, you are in the middle of preparing a report you will present to your boss tomorrow. Or yet, you have reached the final battle on the game you have played for so long. You know in your heart how much you have prepared for this and that you have the chance to succeed. Then, your laptop dies because of overheating and leads you to lose all of your progress.
Isn't that a nightmare?
Sometimes, because of prolonged periods of usage, the laptop temperature increases, and the laptop overheats. Although devices like this have their own internal laptops, the workload and the overuse can cause malfunction, too.
What is the Best Way to Keep a Laptop Cool?
So, what can you do to avoid overheating problems with your laptop? Overheating can reduce overall performance, and it can also get to serious device damage. Because of this, manufacturers have invented the Laptop Cooling Pad to serve as an add-on to help reduce overheating problems and maintain the optimal temperature while you are using your laptop.
Are you interested in getting on for yourself?
Good news! In this article, we have compiled the best among thousands of available laptop cooling pads in the market. Ready? Let's begin.
1. KLIM Cyclone Laptop Cooling Pad – 5 Fans Cooler
Rating: 4.5 out of 5 stars – BEST IN POWER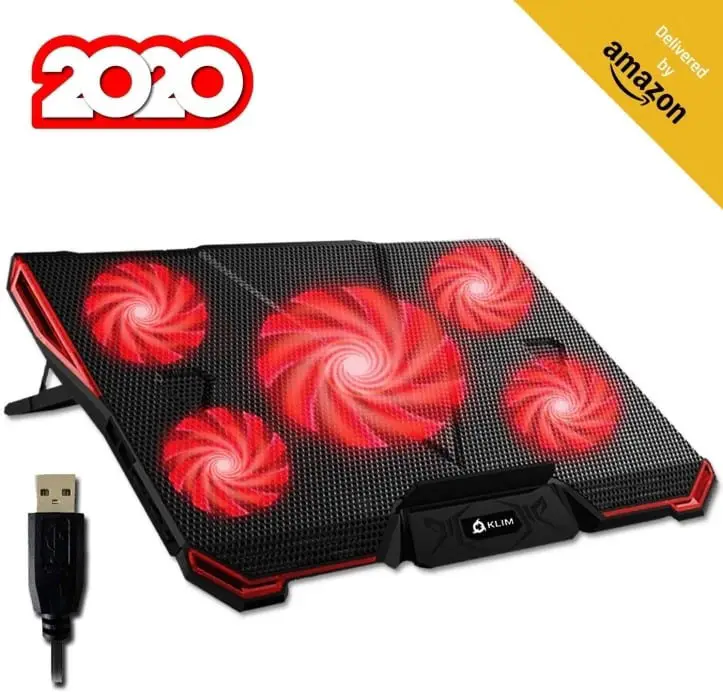 Technical Features:
Multifunctional – With 2 USB ports – Can also be used with Wii, PS4, Xbox One
Excellent results for gaming, photo, and video editing
A large model that is compatible with 17, 18, and 19-inch models
4 fans rotating at 2200 RPM and 1 fan at 1200 RPM
Offers a 5-year warranty
The first cooling pad on our list is this product by Klim, called Klim Cyclone Laptop Cooler for Computers. This can truly be considered as an investment, as this device will help your laptop by allowing no component to overheat and maximize the life span of your computer. Through really serve as your partner in prolonging your PC's existence, every purchase also includes a free ebook on the topic of 7 Tips in Keeping Your Computer Alive.
It is a larger model, which means it can cater to more laptop models compared to others. It is considered to be one of the most powerful cooling pads in the market. It is equipped with 4 fans with a stronger 2200 RPM and 1 fan, which runs at 1200 RPM.
2. Cooler Master NotePal X-Slim Ultra-Slim Laptop Cooling Pad with 160mm Fan
Rating: 4 out of 5 stars – BEST SLIM MODEL
Technical Features:
Heavy duty with an ultra-slim profile
Perfect for gaming laptops
Mesh surface and 1 high performance 160 mm cooling fan with 1500 RPM
Cable grooves for easier cable management
Two different height settings for a laptop stand that provides excellent comfort
Are you looking for a cooling pad that is thin, lightweight, and very portable? This product from Cooler Master might be the one that is perfect for you. This cooling pad measures only 27.5 mm at its thinnest section, and it weighs as light as 700 grams.
Though there are other cooling pads with similar size and weight, this brand has proven that it has an outstanding quality bid. It is also able to cater to laptops that are 17 inches in size, and this fan can provide amazing airflow while keeping things very quiet.
Because of the excellent cable management, this cooling pad is definitely very comfortable and portable.
3. TECKNET Laptop Cooling Pad
Rating: 4.5 out of 5 stars – BEST BUDGET OPTION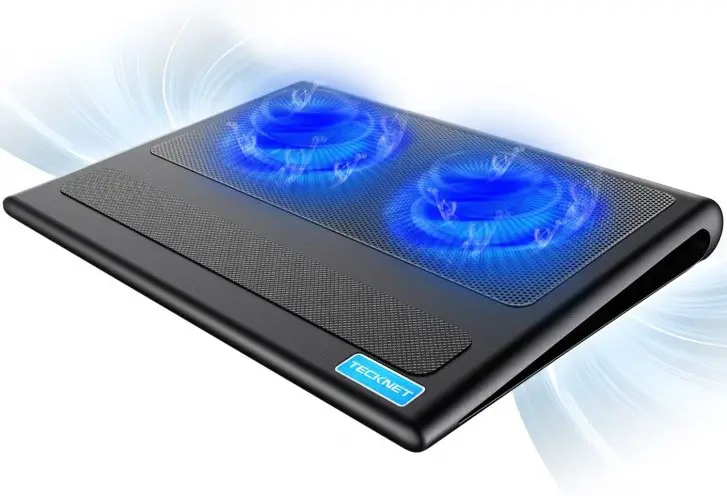 Technical Features:
Supports various laptop sizes from 12 inches to 16 inches
Quiet and ergonomic comfort
Metal mesh surface for excellent airflow
USB powered 118 mm fans with a power switch design
An extra USB port for an additional USB device
If you are someone who wants to not spend too much on your laptop cooling pads, this model from TeckNet has a great option for an affordable priced one. With this price, you can even enjoy a decent product.
This cooling pad comes with a trio of 118 mm fans that provides a moderately satisfactory level of cooling. It offers various device benefits from a highly slim and portable design, too. The pad is equipped with a pair of feet that can be extended just to raise everything up. It has a USB port to plug in a different device, should you need an extra port.
Though the build quality of this unit may not be the best option, this cooling pad does not make a lot of noise, and it does the job effectively.
4. Tree New Bee Laptop Cooling Pad, 14-17 Inch Laptops with Five Stong Fans TNB-K0033
Rating: 4 out of 5 stars –  BEST AFFORDABLE OPTION
Technical Features:
Ergonomic design
2 Built-in USB ports
5 quiet fans for a noise-free cooling experience
Adjustable fan speed controller
Compatible with almost all 12 inches to 17-inch laptop sizes
Next on our list is another great option for people who have some budget constraints. Tree New Bee's Laptop Cooling Pads is an excellent affordable option. It works through the joint effort of four 110 mm fans with different adjustable speeds. If you wish, you can also opt to turn a few or all the fans off or just low down the spinning speed of the fans.
This cooling device is at a good price point, performs pretty quiet, and provides a suitable level of cooling for the laptop. It can also be positioned on a pair of legs for a slight incline, which is believed by manufacturers to be a better ergonomic typing angle.
Overall, the Tree New Bee Cooling Pad is a surely great choice to consider if you want a lower yet reasonable price and satisfactory performance.
5. Cooler Master MasterNotepal Pro Laptop Cooling Pad 'Adjustable 2x 80mm Fans
Rating: 4 out of 5 stars – BEST MODULAR COOLING PAD
Technical Features:
Thin sandblasted aluminum surface
Modular, with the focus on customization
The ergonomic tilt of 8 degrees
Adjustable fans that can be clipped to any position
Upgradable design to expand versatility and functionality
If you have been a laptop user for a long time now, you probably know that the positioning of vents in the cooling pad, as well as the positioning of the cooling fans, are important things to consider. One major thing that can help you master the optimal position is using this model from Cooler Master. This is mainly because this model allows you to decide on the fan's position yourself.
What does modular mean? It means that the fans can be placed anywhere on the cooling pad. It can be targeted exactly where the air is required inside the laptop. Aside from this, the tilting angle of the cooling pad can also be set at five specific different angles. The MasterNotepal also boasts its excellent quality and a beautiful aluminum surface, which has the ability to help with dissipating heat.
It also offers organized cable management, removable stoppers, and attachable USB hub. This product is almost always sold out, so you should buy one when you have the chance to.
6. Targus Portable Lightweight Chill Mat Lap for Laptop
Rating: 4 out of 5 stars – MOST USB HUBS
Technical Features:
Fans powered by the standard USB connection
A USB hub for sharing USB connectivity
Dual fans to keep the laptop cool
4 extra USB ports that provide a connection to different accessories
Adjustable height at 4 separate levels
Do you use lots of gadgets or computer peripherals and are always in need of many USB ports? You do not have to sacrifice this in order to keep your laptop cool. This Chill Mat from Targus allows you to have the best of both worlds.
This model comes with a USB hub with 4 USB 2.0 ports. For the cooling part, it has 2 fans that can run up to 2,500 RPM. This amazingly well-constructed device is very slim, and it can be adjusted to 4 different heights to ease the typing experience depending on your needs.
7. Enermax Twister Odio Speaker Cooling Pad for 16-Inch Notebook (CP008)
Rating: 3.5 out of 5 stars – BEST COOLING PAD WITH SPEAKERS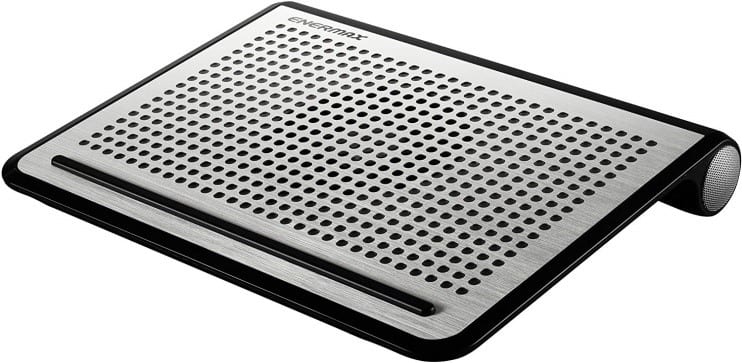 Technical Features:
High quality brushed aluminum design
Manual fan speed control for audio balance
Integrated DreamBass sound chip
Two speakers for premium full-surround sound
Compatible with laptops up to 16 inches
When you are considering buying a laptop cooling pad, the foremost thing that comes into mind is finding one that will truly satisfy the cooling needs of your gadget. But, one unique model, created by Enermax is this laptop cooling pad that is also equipped with speakers! The manufactures considered this because aside from heating too much, there are many laptop models that struggle with providing better quality audio with its speakers.
This Enermax Twister Odio is equipped with DreamBass 2W speakers, which strengthen the bass and improves the overall quality of the music. Also, because of integrating these speakers, this cooling pad is a little thicker compared to others, but it is still surprisingly light.
If you are a music lover or if you love watching and streaming on your laptop, this type of cooling pad will be perfect for you.
8. Thermaltake Massive 20 RGB Steel Mesh Panel Single 200mm Fan 10″‐19″ Laptop Notebook Cooling Pad CL‐N014‐PL20SW‐A
Rating: 4 out of 5 stars – BEST FOR LARGE LAPTOPS
Technical Features:
Designed for 19-inch notebooks and laptops
Large metal mesh surface
Integrated 200 mm silent fan for airflow
3 Adjustable Height Options
256 RGB color LED-lit cooler with 5 light modes
If you are an owner of a larger notebook or laptop, this is the cooling pad for you. This Thermaltake cooling pad is designed to support massive laptops, usually 17 to 19 inches. It also comes with one 200 mm fan that is used for cooling. The speed can also be adjusted depending on the preference.
This said fan is large enough to support the massive laptops, and it also provides 3 different types of height settings, up to an angle of 13 degrees. The nicest aesthetic feature of this cooling pad is the RGB lighting that you can play around with, depending on your mood.
9. Cooler Master cm Notepal X-Lite II
Rating: 4 out of 5 stars – QUIET YET POWERFUL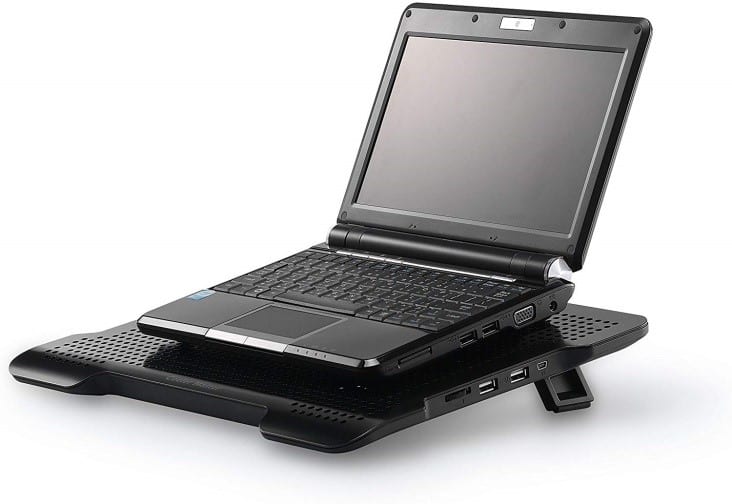 Technical Features:
Ultra-slim cooling stand at 28 mm
140 mm silent fan
Ergonomic design for better viewing
Stylish metal frame
Two USB ports for accessories and peripherals
The third and final Cooler Master model on our list proves that this brand really knows what it does in the industry. Like the other two we have featured, this one is also a winner in our books. It uses a large single fan, at 2300 mm. It is very impressively quiet for its power, which is a bonus. The pad also comes with a fan speed controller, which helps the owner go through what he or she believes to be the optimal airflow levels for the benefit of the laptop.
This cooling pad is also equipped with an ergonomic design, which seeks to provide the user with the best typing angle that will not wear them out easily. Once you place it on a flat surface, the pad is powered with non-slip stability. As a bonus, there are USB ports at the back for other devices to be used by the owner.
10. Kootek Laptop Cooling Pad 12″-17″ Cooler Pad Chill Mat
Rating: 4.6 out of 5 stars – BEST OVERALL
Technical Features:
5 built in fans with red LEDs with on/off switches
Super quiet fans for a disturbance and interference-free environment
An additional dual USB hub
Ergonomic stand with 6 adjustable heights
Two stoppers to prevent the laptop from falling off
The last cooling pad that we will feature on this list is the one that we consider to be the best among the others. This Kootek Chill Mat is a very impressive model, which powerfully utilizes 5 fans to deliver a quiet yet topnotch amount of cooling to protect laptops and prolong their life.
It is a very versatile model as you can opt to switch one or some of the fans off, and you can also raise the inclination of your pad through six different heights for peak comfort in your overall experience. This cooling pad can cater to different laptops, usually surrounding 12 to 17-inch size range.
Overall, the flexibility and customization offered by this cooling pad will surely benefit its users – plus, the mid-range price tag is perfect for many consumers.
Buying Guide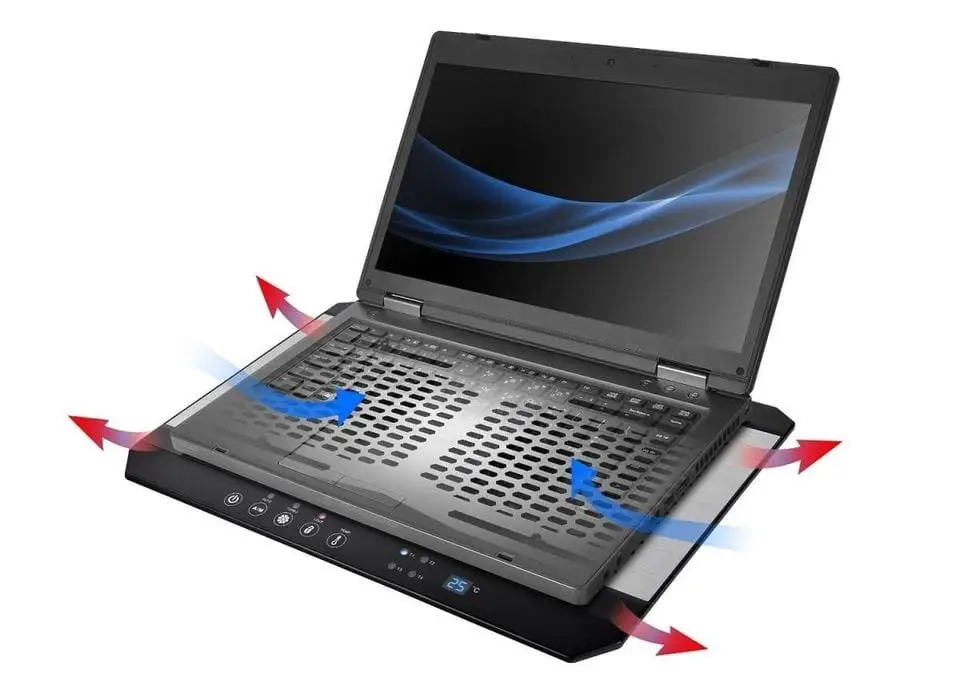 Price – Think about how much you are willing and able to spend using a cooling pad. There are outstanding models for every price point, so there is no need to worry about going for the most expensive one right away.
Extensibility – Most laptop cooling pads come with additional USB ports, as attaching the cooling pad would mean that you have one less USB port to use. Some usually come with 2 additional, but there are those who have up to 5 additional ports.
Portability – As a laptop is generally a portable electronic gadget, its cooling pad must also be built the same way. It must be light so that you can bring it anywhere anytime.
Quality – In getting a cooling pad, it is very important to check on the efficiency and durability of the item that you will get. As they can aid the prolonging of your laptop's life, it is important to get one that will get the job done without taking too much of your time, built from materials that will last a long time.
Adaptability – A cooling pad must be able to provide their users with comfort – of which one of the essential things is the ergonomic design of the laptop cooling pads.
FAQS
Do laptop cooling pads really work?
Laptop cooling pads can work in maintaining temperatures with your notebooks and laptops, but it still comes with its limitations. Usually, they can bring down temperatures around 3 to 5 degrees, the most effective at 10 degrees. One thing to consider is the brand and quality of the cooling pad you are using.
Which Laptop Cooling Pad is the best?
No direct answer to this question, as there are thousands of laptops available on the market. But, we can vouch for the 10 selected cooling pads on our review list. These products are some of the best ever created, and they are perfectly matched to the different types of consumers and users.
Why does my laptop get hot so fast?
There are factors that can lead to a laptop increasing in temperature must faster. Some of these reasons are:
Incorrect laptop placement
Overcharging and overperforming
Blockage in exhaust vents
Increasing room temperature
New components like hard disks or RAM
Extensive usage
Conclusion
Laptop cooling pads are indeed essential innovations that every laptop owner must possess. It is an effective precautionary measure that helps avoid problems in the future and protect the optimal user experience.
There are many great models an brands to choose from, but the most important thing to consider first is the actual characteristics that you are looking for. Decide on which factor matter the most for you and finalize on the actual model you deem as your match. Start with the 10 models we have compiled for you, as they are the top cooling pad in their own subcategory.
With a laptop cooling pad, your overheating worries will go away. So, what are you waiting for? Take your pick among our list and ease your troubles.