The musical instrument digital interface or MIDI for short is one of the most useful accessories for guitarists. Its main purpose is to let you transmit messages to your PC. The MIDI will tell you how to improve the velocity, pitch, and so on your guitar.
If ever you would like to learn to play the guitar, you can use a MIDI. You can use one even when you already know how to play one. One of your best choices for MIDI is the famous Jamstik+.
It's a MIDI guitar controller with 6 strings that can connect to Mac or iOS devices via Bluetooth. Jamstik+ is a super-portable device that does not require much in terms of storage space compared to the regular-sized guitar.
Since it is a MIDI controller, it goes with extraordinary features that made it a more enticing option to musicians. Jamstik+ is the original Jamstik's improved version. Unlike its predecessor, it has Bluetooth connectivity and other major updates that can benefit the guitarists.
Jamstik+ sets itself apart from its competitors by being a super-lightweight but capable device. One of the best things about this product is its decent battery life that can last for up to 8 hours or even more!
Pros:
Does not require tuning
Portable
Long battery life
Cons:
Jamstik apps are not compatible with Android devices
Free apps do not allow music recording
About Jamstik
Jamstik is a brand of portable MIDI guitar controllers. The brand is an official property of Zivix, a music technology firm located in Minneapolis, MN. Jamstik MIDI controllers are quality American products that were designed in Minneapolis but crafted by a contractor manufacturing company based in South Dakota.
The brand started out as a crowdfunding campaign posted on Indiegogo in 2014. It was a successful project that got support from more than 800 supporters. This crowdfunding campaign earned more than $175,000 that was used in the production of the original Jamstik.
Things to Consider Before Buying a MIDI Guitar Controller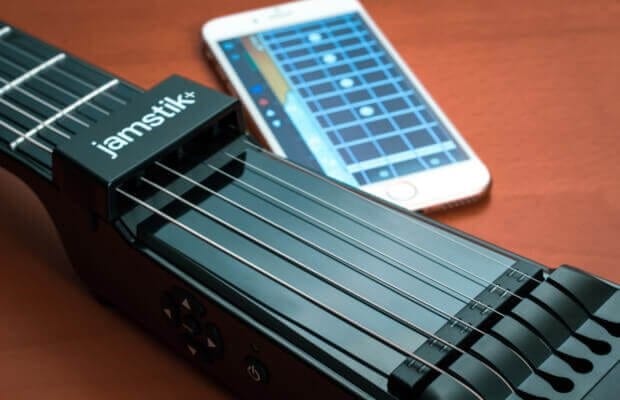 What should you look into when looking for a MIDI guitar controller? The answer to this question will depend on 2 factors. The first one is your experience as a guitarist. The other is how you will be using the MIDI controller.
If you are a novice, then you should go for those MIDI guitar controllers that will allow you to easily adapt to MIDI functionality and to the layout of musical instruments.
Also, be sure that you can tell the differences between playing the MIDI guitar controller and the actual guitar. It's for the reason that you may fail to transfer the habits and techniques you learned and developed on one to the other.
If you have been playing the guitar for years, then you should look for the MIDI guitar controller that offers more features that you can use with ease. This way, you will get the kind of experience that is almost the same as playing the real guitar.
Even if you have the experience, you still need to adjust your playing technique when using a guitar controller. Practice will help you make the most of using this kind of device for your guitar.
Features and Benefits
Design
Jamstik+ looks so good that it comes with a glossy, thin black body. It almost looks like the real guitar. It feels sturdy enough, which is good because this kind of product is not an ordinary investment. This little device weighs only 1 pound or 9 oz. For its length, it measures 16 inches long x 3.5 inches wide x 1.8 inches thick.
Buttons and Ports
The necessary buttons are conveniently located. These include the power button and D-pad. It also includes a headphone jack and a micro-USB port. I like that it supports a micro-USB port since I've been using an older smartphone that carries the same feature.
Rechargeable Battery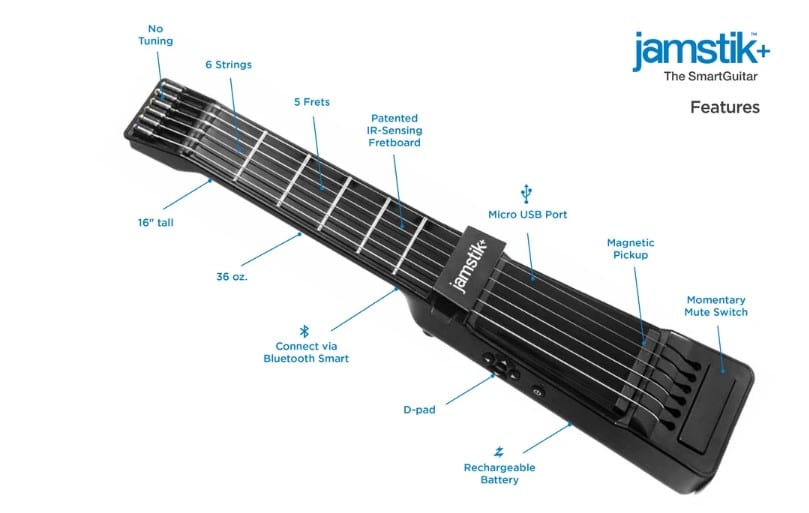 Jamstik+ also features a rechargeable battery that you can access at the base of this guitar controller. On a single charge, it can last for more than 8 hours of non-stop play, making this MIDI controller ideal for trips. I like how durable the battery of Jamstik+. It helps a lot in my case because I often spend a day with a guitar away from home.
Great Hardware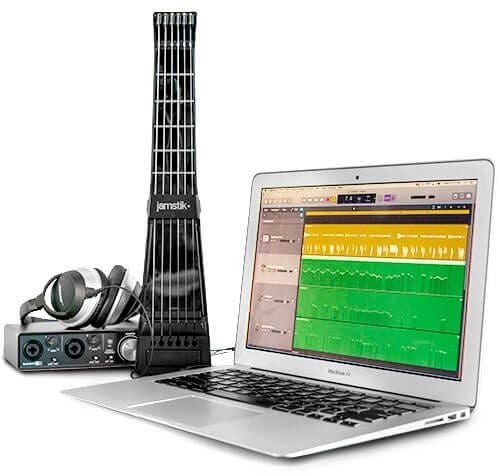 The device's hardware is more interesting. Under the hood, it comes with highly responsive sensors together with the fretboard, Bluetooth radio for fast, reliable connectivity with an iOS device or computer.
Jamstik Connect
Using this MIDI controller for guitars is so fast and easy. You just need to connect it to Jamstik Connect. It is a mobile app that will teach you how to use this device. You don't need to play music with the gadget.
Each application allows for various features and sounds that make the device easier to use. Jamstik+ gives you more sounds and instruments to enjoy.
What Others Say about Jamstik+?
This MIDI controller is one of the best in the market. More and more customers are happy with its quality, performance, and features. Check out these testimonials:
Other Options
If you think Jamstik+ is not for you, then you may consider these great alternatives:
#1. Original Jamstik
It works with iOS and Mac devices. It teaches how to play the guitar with the included JamTutor app. It features real frets, real strings, and real pick. It is easy to use, as it doesn't require tuning. It connects to WiFi without cables needed. Recommended for novices and experienced guitarists. Check this out to know more. 
Pros:
Easy to use
Lightweight
With real fret, real strings, and a real pick
#2. Artiphon 
This MIDI controller can play bass, synth, guitar, and violin. It comes as a complete package that includes extras like drum pads. It goes with a decent battery that lasts for up to 6 hours. Works with Mac and iOS devices. Suitable for newbies and experienced guitarists. Check out the product today for more details. 
Pros:
With extras 
Suitable for iOS and Mac
Versatile
#3. Jammy Guitar
It almost looks like a real guitar. It has great features like USB Type-C port and Bluetooth connectivity. It is compatible with digital audio workstations and music notation software. This device is so portable and easy to carry, so it is suitable even for first-time users. You can also connect your headphones or the amplifier by using 1/4-inch or 1/8-inch jack outputs and let the fun begins. 
Pros:
USB Type-C
Compatible with software and workstations
Portable
Why Choose Jamstik+ Over These Alternatives?
Offers a better battery life that lasts for 8 hours or even more
Looks classier and more portable than its competitors
Much more lightweight and easier to use
Conclusion
Learning how to play the guitar has been made easier with the advent of Jamstik+. If you're a novice and preferred not to use a MIDI controller for guitar, then you may likely give up while getting there. With Jamstik+, you can hope for a rewarding experience because:
It's easy to use
It's as efficient as the original Jamstik
It's lightweight and so easy to carry
It's beginner-friendly
What are you waiting for? Check out the product today and find more reasons to consider Jamstik+.