Are you looking for a budget phone with amazing features that will not force you to shell out so much money? You might be in for a treat! The Motorola Moto G series is one of the most popular options for midrange consumers of smartphones. In this article, we will be going through two devices in the Moto G series, the G6 and the G7. Of course, the smartphone is one industry with some very intense competition. Here is a brief guide to help you decide among the two generations of the Moto G series.
Moto G6 and Moto G7: A Brief Overview
These two smartphones were produced by Motorola, a legend in the consumer electronics industry, with 91 years of experience. It is now earned by parent company Lenovo, who acquired the company in 2014.
What Is The Moto 6?
The Motorola G series is a famous product line, admired by many for its several strengths. With this particular product line, the company is seeking to provide affordable phones with great features that do not have to cost a fortune.
The Moto G6 comes with an 18:9 display ratio, which is similar to the iPhone XS and the Samsung Galaxy S9. This is a unique feature among affordable smartphones, as well as the first in the Moto G series.
It also comes with a dual-sensor camera for its rear, and it claims fast charging abilities, which is a new thing for the Moto 6 series.
Pros
Budget price
Clear and bright display
Premium design for its low price
Cons
Slow camera
Not waterproof
What Is The Moto 7?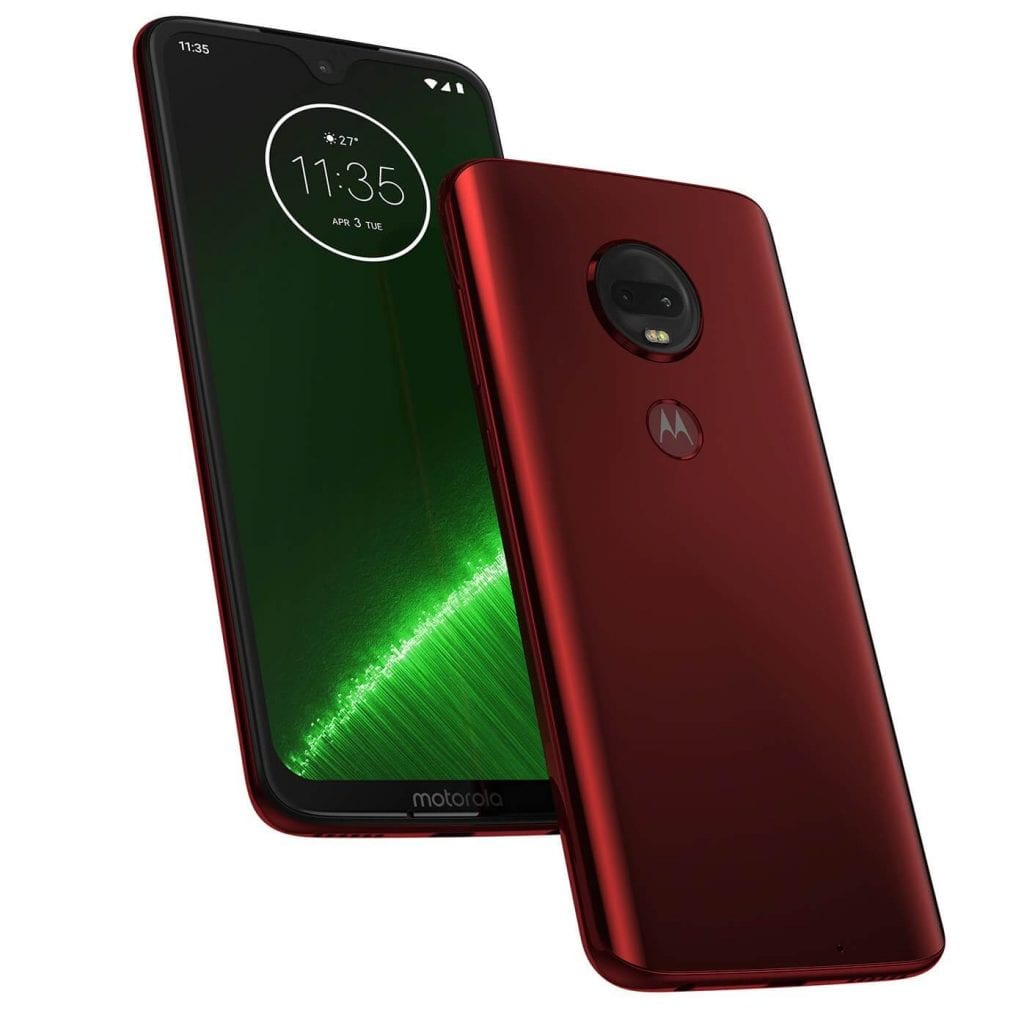 When you first look at the Moto G7, you would not think that it is a mid-range phone as it gives off this expensive aura. This is the embodiment of the Moto G promise – delivering quality phones for a lower budget. In simple terms, the Moto G7 took the great things from the Moto G6 and slightly refined it to make an even better smartphone.
It comes with a larger display, at 6.2 inches, and that's with an edge-to-edge display. Because of this, it has a little notch – which can be annoying to some, so that it can house the selfie camera.
The upgrade also involved the internal parts of the phone, using a new processor, Qualcomm Snapdragon 632. It also comes with a fingerprint scanner for a security measure located at the rear of the phone.
Pros
Great performance
Clear and huge display
Well-built and sleek design
Cons
Camera needs improvement
The battery is just so-so
Moto G6 and Moto G7: A Side By Side Feature List
| | | |
| --- | --- | --- |
| Feature | Moto G6 | Moto G7 |
| Performance | Octa-Core | Snapdragon 632 |
| Storage | 32 GB | 64 GB |
| Camera | 12 MP | 12 MP + 5 MP |
| Display | 5.7 inches or 14.48 cm | 6.2 inches or 15.74 cm |
| RAM | 3 GB | 4 GB |
| Battery | 3000 mAh | 3000 mAh |
| Fingerprint Sensor | Yes – Front | Yes – Rear |
| Charging | Quick Charging | Quick Charging |
| Operating System | Android Oreo (8.0) | Android Pie (9.0) |
| Network | 2G, 3G, 4G | 2G, 3G, 4G |
| FM Radio | Yes – With recording | Yes |
| Audio Jack | Yes – 3.5 mm | Yes – 3.5 mm |
| Graphics | Adreno 506 | Adreno 506 |
| Measurement | 72.3 mm width 167 grams of weight 8.3 mm thickness 153.8 mm height | 75.3 mm width 172 grams of weight 8 mm thickness 157 mm height |
| Aspect Ratio | 18:9 | 18:9 |
| Pixel Density | 424 ppi | 405 ppi |
| Screen Resolution | 1080 x 2160 pixels | 1080 x 2270 pixels |
| Touch Screen | Multi-touch capacitive touchscreen | Multi-touch capacitive touchscreen |
| Expandable Memory | Up to 256 MB | Up to 512 GB |
| Camera Features | Touch to focus, Auto Flash, Face Detection, Digital Zoom | Touch to focus, Auto Flash, Face Detection, Digital Zoom x 8 |
| Shooting Modes | HDR, Continuous Shooting | HDR, Continuous Shooting, Burst |
Moto G6 and Moto G7: Feature Comparison
Design
Years ago, when the Moto G series was introduced, the Moto G phones looked bulky, blocky, where the focus was durability and not design. With Moto G6, everything changed. Instead of using rubbery plastic, the Moto G6 was designed with glass as a primary feature. There is glass in the front and the back – which made the texture of the phone so much better.
The phones have the dimensions of 153.8 x 72.3 x 8.3 mm. It is not waterproof – but it is splash-proof. The Moto G6 also comes with a 3.5 mm headphone jack, and there is a USB-C charging port at the bottom edge.
With the Moto G7, on the other hand, the design is very similar to what the G6 looked like. From the back, these two phones look almost identical. The only obvious difference with this G7 design is that the fingerprint sensor is located towards the Moto logo instead of the bottom part of the phone's front. The G7 is also a little heavier at 172 grams compared to the 176 grams of the G6.
The G7 also has a USB-C port with a 3.5mm headphone jack. It is also splash-proof. The difference comes in dimensions of the phone, with the specifics measured at 157 x 75.3 x 8 mm.
WINNER: Moto G6
Display
The Moto G6 is equipped with a 5.7 inches screen, making its aspect ratio display measure at 18:9. It is definitely longer by the other phones in the series. The Moto G7 makes it even longer – with its larger 6.2 inches measurement. You will also get a notch for your front camera on this Moto G7, which could be considered as a drawback by some users.
Both phones exhibit full HD display, but the Moto G7 offers a slightly lower one at 405 pixels per inch. The Moto G6 is equipped with 424 pixels per inch. The phones have similar brightness as they used IPS LCD technology for both.
WINNER: Moto G7
Camera
In terms of the camera, these phones basically have very similar offerings. Both phones are equipped with dual cameras. The first camera has a 5 MP depth sensor, while the second camera has a 12 MP sensor equipped with an aperture of f/1.8. The selfie camera of both of these models is 8 MP.
For the Moto G6, the developers introduced Cinemagraphs, which is a feature that gives the ability to take photos with the element of movement. The next generation G7 is also equipped with this ability, but it is also powered with more. Videos can now be laid out with a Hyperlapse effect, and you can zoom digitally with a High-Resolution Zoom. Users can also have an Auto Smile feature, which immediately snaps the photo when the person smiles.
The image quality gives so much to yearn for, but we can give the Moto G7 the points for its new features.
Winner: Moto G7
Battery
The battery capacity does not change in the new generation Moto G7. This is a disappointment and can be a demotivation for users seeking an upgrade from using the Moto G6. The charging speed remains at 15 W, and the battery capacity stays at 3000 mAh.
Winner: Moto G6
Software & Specs
The Moto G6 offers a good quality – with its 3 GB RAM and 32 GB worth of storage, with recent retailers hosting 64 GB storage as well. This is slightly improved with the Moto G7, as it has 4 GB RAM and 64 GB storage.
The greatest considerable upgrade is the change in processor and chipset. The Moto G7 now has Snapdragon 632 from Moto G6's Snapdragon 450.
If you are in need of more storage, both phones offer expandable one. Moto G6 allows up 256 GB cards, and the Moto G7 is up to 512 GB.
Both of these phones run on an Android operating system, but they come with slightly different versions of it. The Moto G6 is powered by Android 8.0 Oreo, while the Moto G7 is powered by Android 9.0 Pie.
Winner: Moto G7
What Makes the Moto G6 Stand Out?
Moto App – The Moto App is a kind of in-house software that will help promote ease of use and maintenance of your phone. For instance, it will send you to push notifications once the storage is running low, as well as when your battery is running out. The Moto App provides the user with suggestions on how the performance can be improved and optimized.
Moto Actions – The Moto App also allows the setting up of Moto Actions, which provide different shortcuts to completing various functions of the phone. For instance, you can stop the phone from ringing by just picking it up. You can turn your phone over, and it will automatically change to Do Not Disturb setting. You can also set a karate chop motion to mean that your phone's flashlight will turn on. All of these actions can be very useful, but you should never forget to set them all up, as these actions are customizable.
One Button Navigation – This feature helps provide additional space by eliminating the navigation buttons that are located along the bottom of the display. It allows you, instead, to use the fingerprint sensor to control the actions, which can take some time to get used to but can be so convenient.
Dolby Audio – This feature enables the user to customize and personalize the sound profile for different types of content inside the phone. You will be allowed to assign profiles for audio, film, music, recording, and gaming needs.
What Makes the Moto G7 Stand Out?
Smooth Performance – The user-friendly Android interface, compared with the great processors introduced by the developers, the Moto G7 would surely provide you with a user experience that is smooth and lag-free. It gains its power through the Octacore Snapdragon 632 processor, partnered with a 4 GB RAM.
Android 9.0 Pie – Considering its mid-range price point, the Moto G7 brings the amazing Android 9.0 Operating System to the market, which makes it stand out among phones in a similar price range
Large Screen – The biggest improvement in the Moto G7 is its larger screen size. From the previous 5.7 to the present 6.2, it is definitely a considerable candidate for the best budget smartphone for streaming movies. The resolution of his phone is at a bright 2270 x 1080.
Processing Improvement – The greatest difference in the Moto G7 that G series users will be able to notice is how much its performance has improved. The response of the phone is definitely faster and more efficient than the earlier brands. The phone also performs better for gaming support, mainly because of the upgraded GPU.
Portrait Mode – The camera of the Moto G7 offers nothing special. It is straightforward and offers something unique. It may not be perfect, but it offers an impressive Portrait Mode. It creates a beautifully blurred background.
Camera Spot Color – This camera feature allows you to tap one part of the photo. It will turn everything else black and white and retain color in your preferred area of the screen.
Motorola's Turbo Charge – The Moto G7 uses the USB-C port to charge the phone, and its charging is quite fast. Usually, it can go from 0 to 80 percent full within an hour. The fastest of the percentage between 20 to 80 percent that a 15 minute-charge can usually charge a huge chunk.
Conclusion
Both Moto G6 and Moto G7 are great midrange phones, and they offer usable and technologically satisfactory features that all types of phone users without having to spend a fortune. Both come from a reputable consumer electronic brand that has almost a century of experience that shows that they know their craft. But, which among these two phones should you go for?
Choose Moto G7 if:
You prefer to go for a newer model with slightly better features.
You are interested in a larger edge-to-edge display.
You want a phone with a better processer and higher RAM.
You are interested in 4K Video Recording.
Choose Moto G6 if:
You are interested in getting about 90% of the features but at a lower price.
You do not enjoy a display with a teardrop notch.
You are interested in a lighter phone with the fingerprint scanner at the front of the phone.
You want to have an idea of how Moto G series phones work.
The Moto G series is an impressive one. Our recommendation is this. If you already own a G6, the G7 has only little improvement to offer, so maybe it would be better to wait for the next generation. If you are new to the Moto G series, it would be great to go straight to the G7 as the price difference is worth the jump.