Faulty batteries, screen cracks, and slow speed are among the most common problems with electronic devices. While one option that you may have is throwing them away right away, being able to repair them can give you a sense of satisfaction and fulfillment, and not mention savings.
Many would think that repairing electronic devices would be difficult. However, it is actually a misconception. In fact, with the right tools at hand, you can fix the problems of your electronic devices. Doing so is easy to do, even for a beginner.
With this said, it is very important to make sure that you have the right tools in your electronics toolkit. There is nothing better than having them all in a single set. In this review, we will provide you with a list of the best electronics toolkits out in the market today. We will also provide some recommendations on how to choose the best ones for your needs.
The Best Professional Electronics Toolkit
Editor's Rating: 4.5/5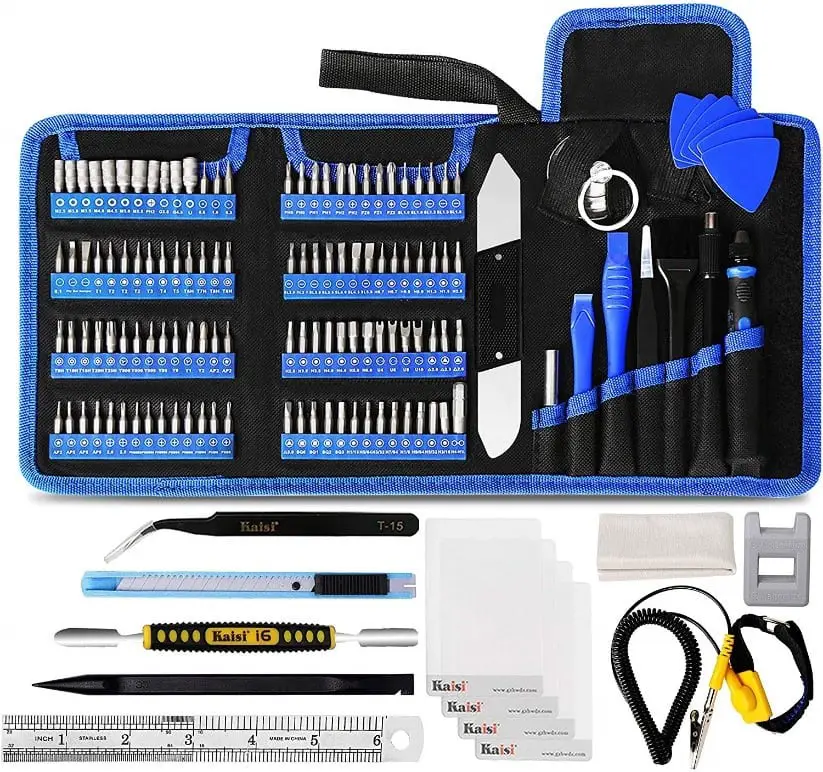 The Kaisi 139-in-1 electronics repair tool kit is designed for professional use, given the number of tools that are included in the kit. It comes with 111 screwdriver bits, extension bar, handlebar, flexible extension shaft, ultra-thin steel spudger, anti-static wrist band, fiber nylon, and plastic spudgers, tweezers as well as triangle plastic picks.
All of the items that are included in this toolkit are completely re-engineered to offer all the requirements that you need. The tools in this kit are chosen for a wide range of applications. The precision screwdriver kit comes with a case for easier handling.
Whether you are an amateur or a professional in the IT and electronics world, you can easily utilize these tools to repair different types of electronic devices, including phones, laptops, and computers. It can also serve as a cool gift for your friends and loved ones.
These toolkits also feature a humanized design, which means that it is ergonomic, with its press and push design handle, making it very comfortable to hold despite a long-time use. The precision set also comes with a storage bag that is made out of oxford, thus giving it protection and easy storage.
Everything You Need in One Kit
Editor's Rating: 4/5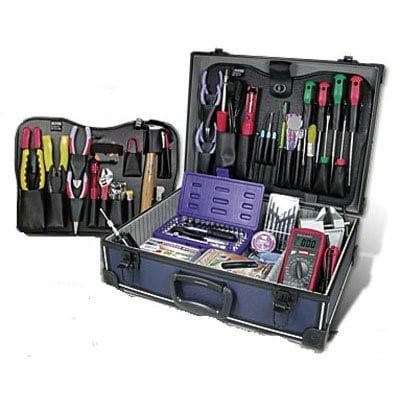 This toolkit features everything that you need in a single package. Among the items that are included in this set are DIP IC extractor, 7-piece folding hex key set (in different sizes), 5-piece needle file set, fine tip stainless steel tweezer, 10-piece electronic wrench set in different sizes, and alignment screwdriver.
It also comes with a 250-gram claw hammer, 30 feet black PVC electrical insulation tape, inspection mirror with telescoping, a tape measure, 4.5-inch diagonal plier, 4.75-inch long nose plier, 5.75 bent nose plier, and a plastic fliptop box.
Regardless of the task you have at hand with any electronic device; you have everything right here. In fact, it also has a brush knife, hook scraper, fork spike, 30-day watt soldering iron, plastic desolder pump, aluminum flashlight, mini drill with several drill bits, and several others. As a bonus, all of them come in a heavy-duty tool case that features protective corners.
Editor's Rating: 4/5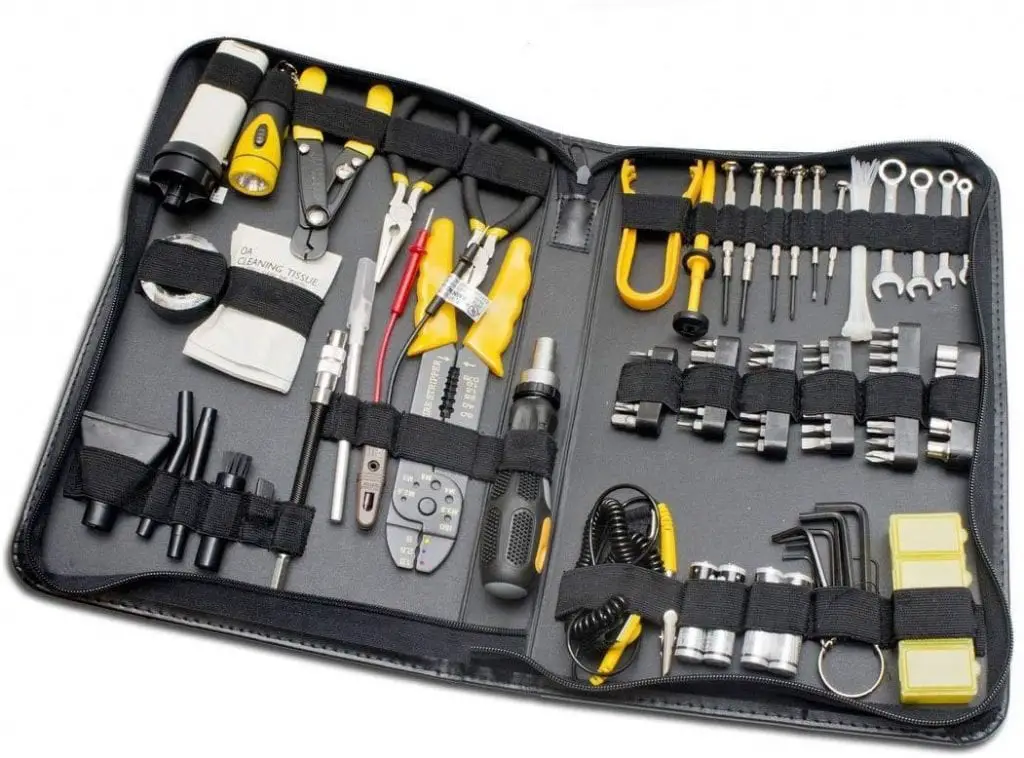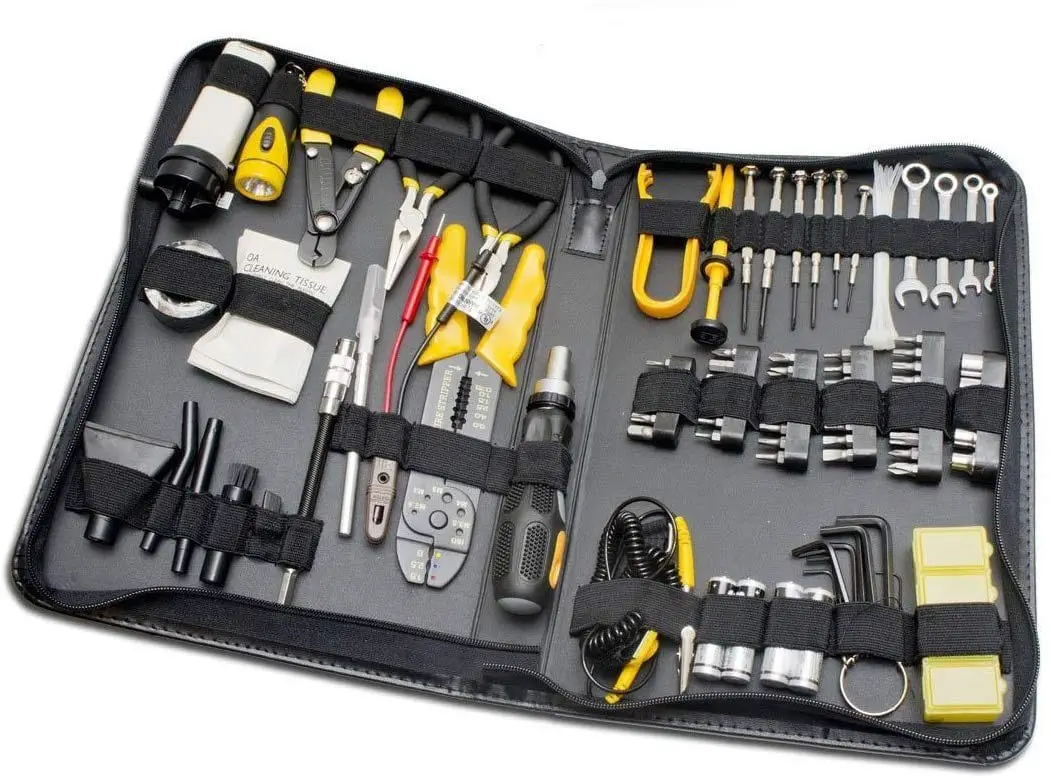 If you specialize in fixing computers, then this is the set to have. This 100-piece set has all the tools that you need for wiring, repairing, cleaning, and testing computers, laptops, and similar devices.
What makes this set stand out is that all of the tools are completely demagnetized, which means that they are designed to protect the hard drive of your computer, as well as magnetic media against damage.
It also comes in a slim zipper case, and a reversible ratchet handle. Other very efficient and effective tools include 6 pieces of a precision screwdriver and 4 pieces of batteries, a clean wipe, and a wire stripper.
With all of the components and tools that are included in this kit, you will feel confident and assured that it is designed specifically to service and also maintain a wide range of computer-related components and peripherals.
Best Computer Technician Kit
Editor's Rating: 4.5/5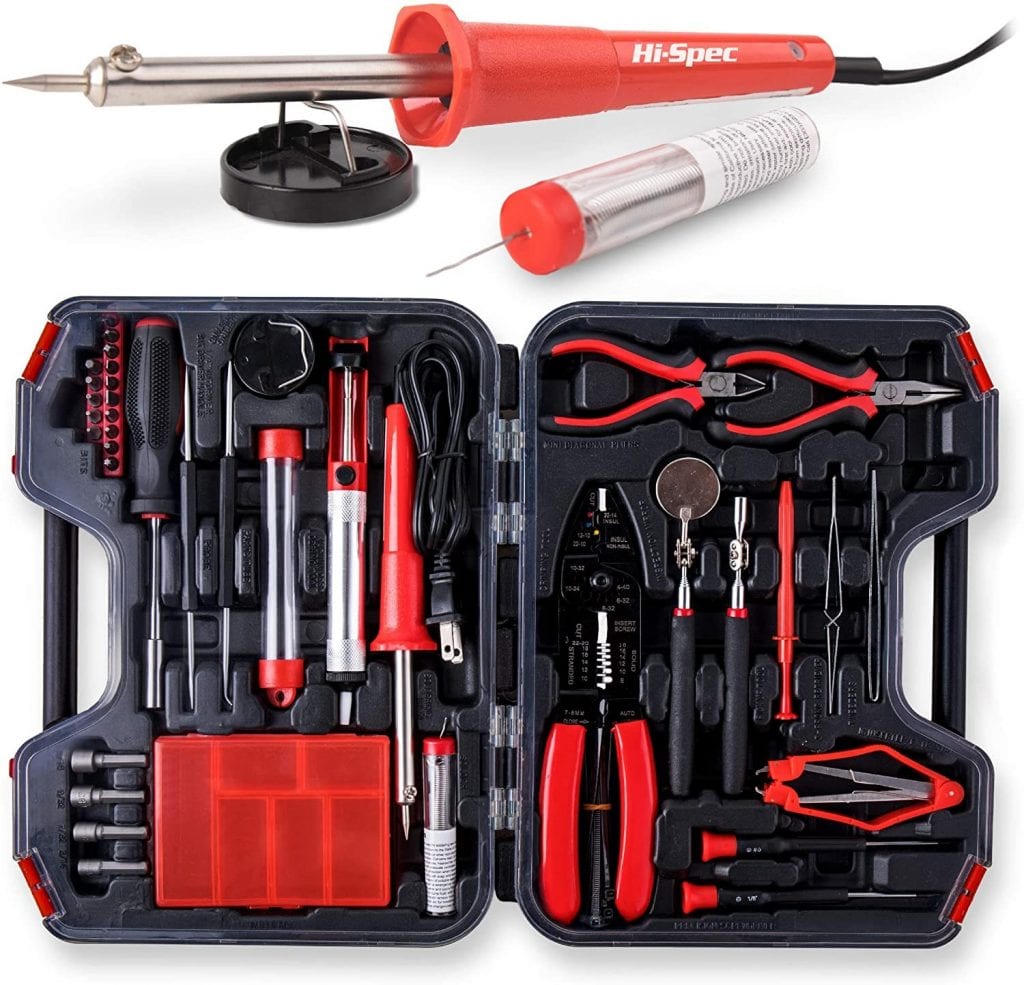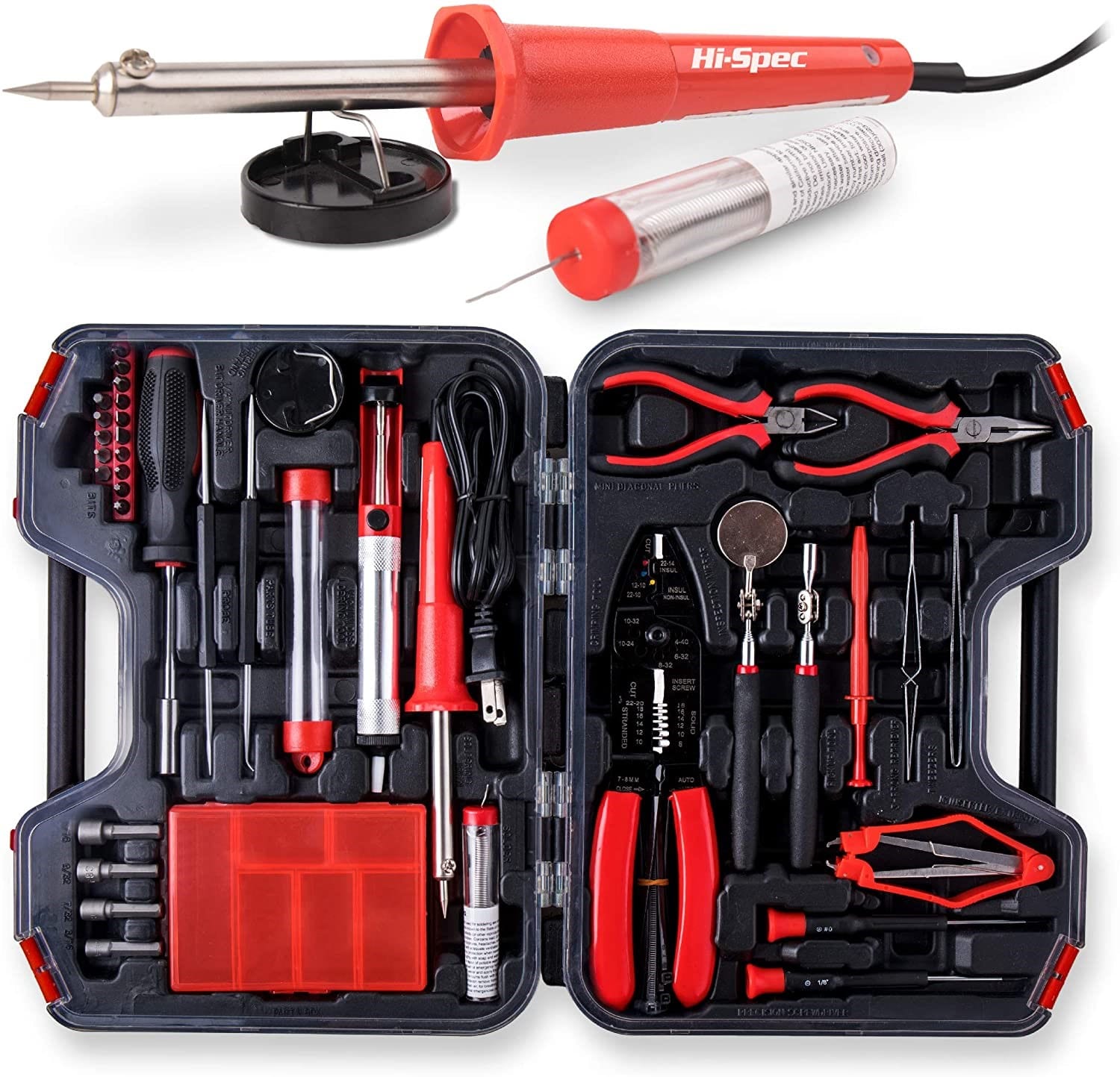 This toolkit features the most required tools for repair, access, and maintenance of electrical work and electronics, including a computer, PC, home, car, and office tasks. With the right tools at hand, you can take care of your electrical devices accordingly. They will allow you to help yourself achieve the amazing results that you deserve.
One amazing feature of this toolkit is the presence of a comprehensive batch of soldering tools, which includes a 30W soldering pen, enabling for precision working soldering tasks with a stand that will help keep your tool safe in between use. A reel of solder is also included, along with a de-soldering pump that will remove any extra solder for amazing results. 
It also comes with precision equipment tools, including the most popular Phillips and Slotted screwdrivers that enable adjustment of smaller screws that are found on most electronics. This also includes a 4-piece mini socket set, 15-piece driver screwdriver insert bits, PC components, and others.
Other electrical engineer tools are also available, including a 3-in-1 wire crimper, wire cutter, and bolt cutter. Other electrical engineer tools also include clamp-on tweezers, fine tweezers, and integrated circuit inserter/extractor that ensures safe handling of sensitive parts.
Recommended Basics Pick
Editor's Rating: 4.5/5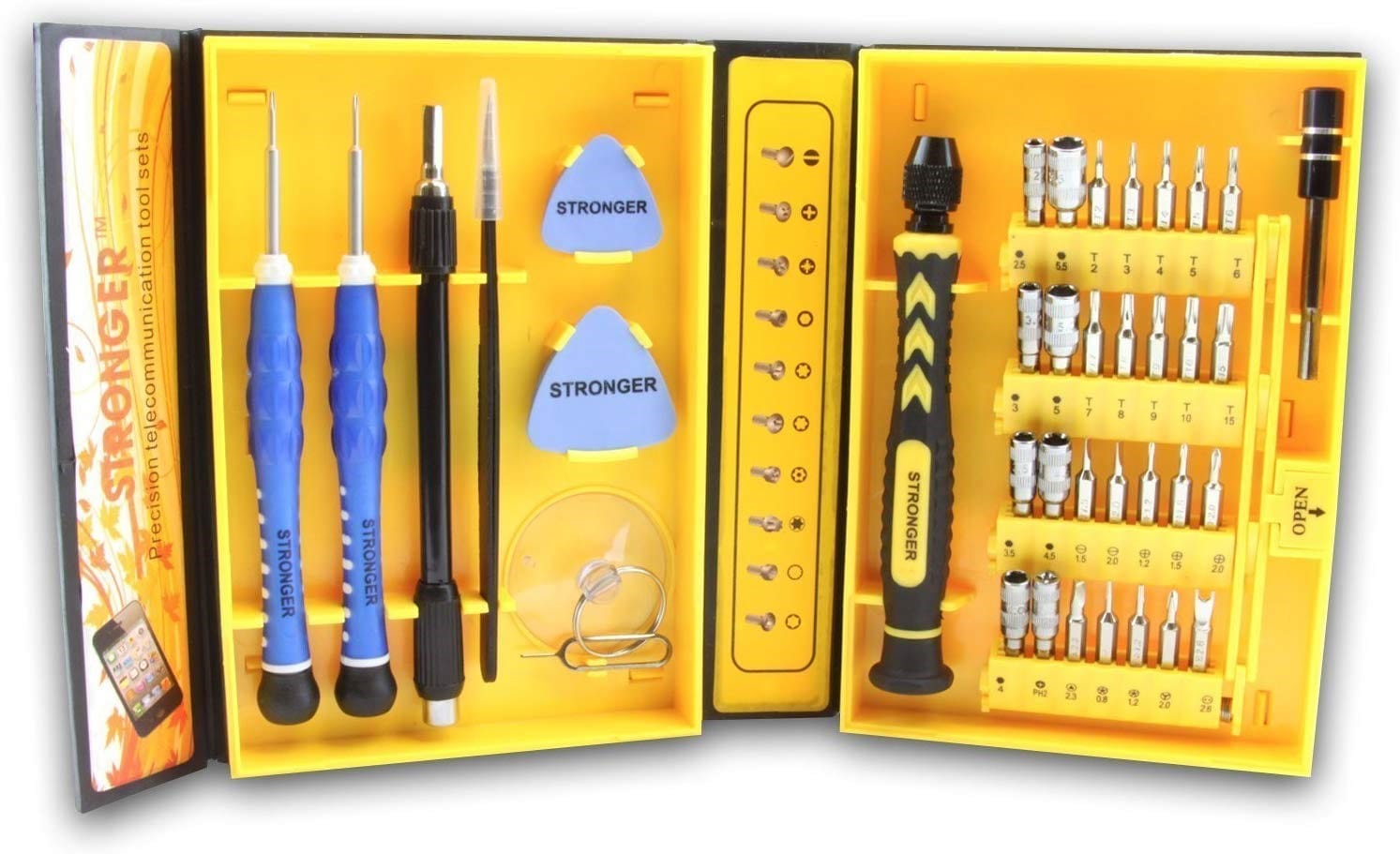 If you are a beginner who does not know which tools to include in your toolkit, this set is a good place to start. The tools in this set are enough to repair common electronic devices, including your tablets, personal computer, watch, and other common gadgets.
Among the items that are included in this toolkit include specialty tools that are designed to fix Apple products. These specialty products include a pentalobe "star", .8mm and a 1.2mm, tri-wing, and triangle tip. There are 38 pieces of tools in one box, making it very convenient for use at home.
The material used in the tools of this toolkit is stainless steel tip, with a plastic handle and a rubberized grip. As a bonus, the manufacturer of this product offers a 12-months warranty on parts, which translates to zero hassle returns and 100% satisfaction guaranteed.
Fit for Professional Use
Editor's Rating: 5/5
This toolkit was developed for more than five years, with its production coming as a result of the gathering of data from thousands of repair manuals. The result? A toolkit that contains all the right tools for the job.
All of the tools that are included in this set have been manufactured by iFixit, only using the highest quality methods and materials. Among the tools that are included in this set is a 64-bit driver kit, and the highest quality and most comprehensive CNC machined bit set.
The tools in this toolkit have been re-engineered completely to provide all of the tools that you would ever need, with nothing that you will not use. This product package has been covered by the Lifetime Warranty of iFixit.
Ideal for PC Builders
Editor's Rating: 4.5/5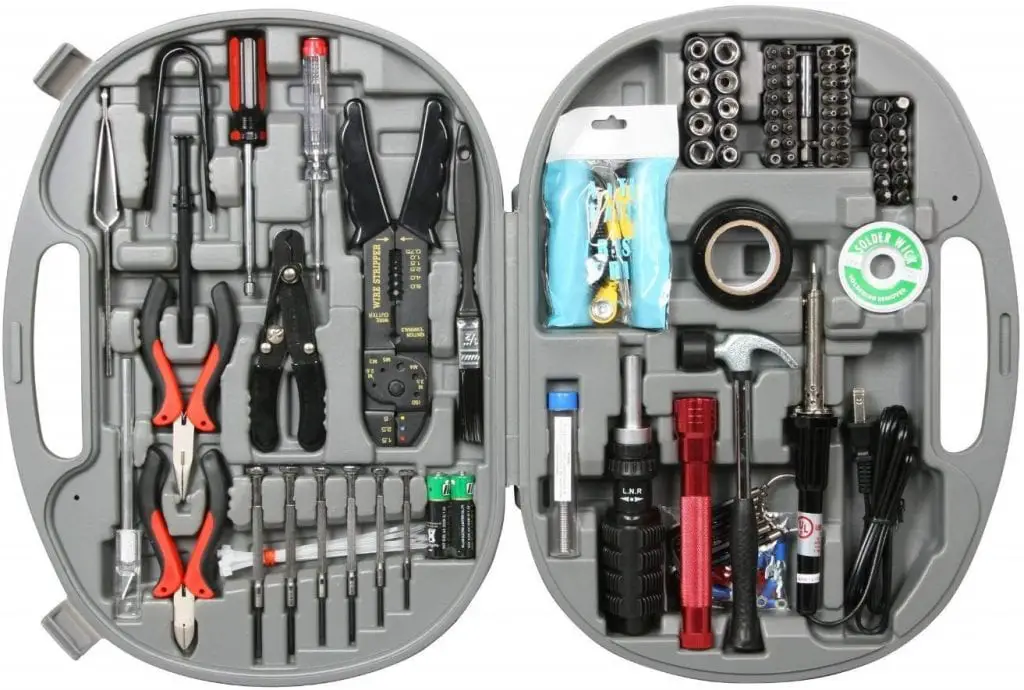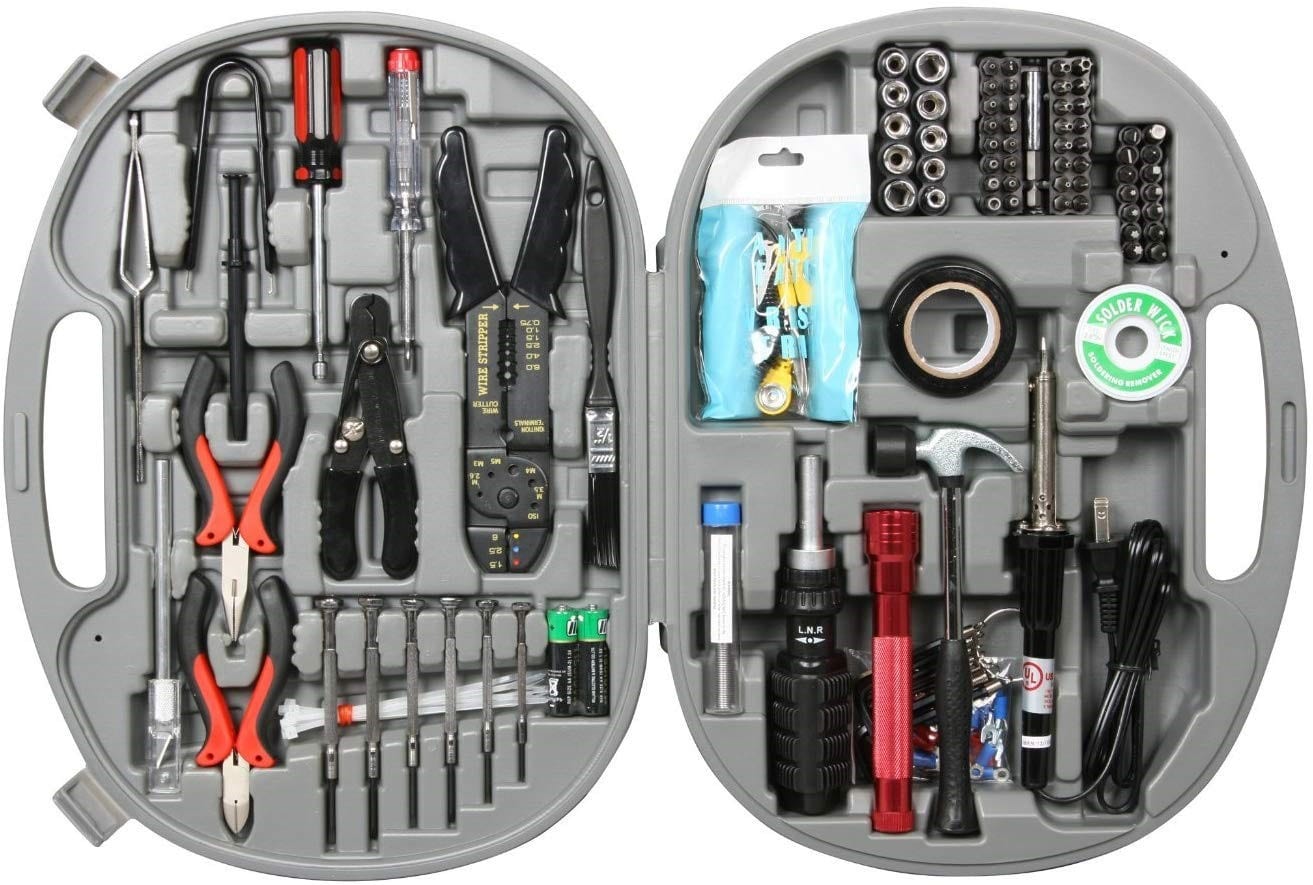 For PC builders who constantly need to have the right tools at hand in order to fix computers, this toolkit is the best option for you to take into consideration. For one, it has 146 tools that are useful for network and PC repair. Among the most useful ones include a wire stripper, flashlight, soldering iron, nose pliers, and several others.
Working on a computer system may need really specific tools. This is something that the manufacturer understands, bringing together a convenient package of high quality tools.
This tool kit consists of almost everything that you would need from home or office repair and maintenance. As you continue to take on challenging tasks, this package should always be present at hand.
Best Precision Toolkit
Editor's Rating: 4.5/5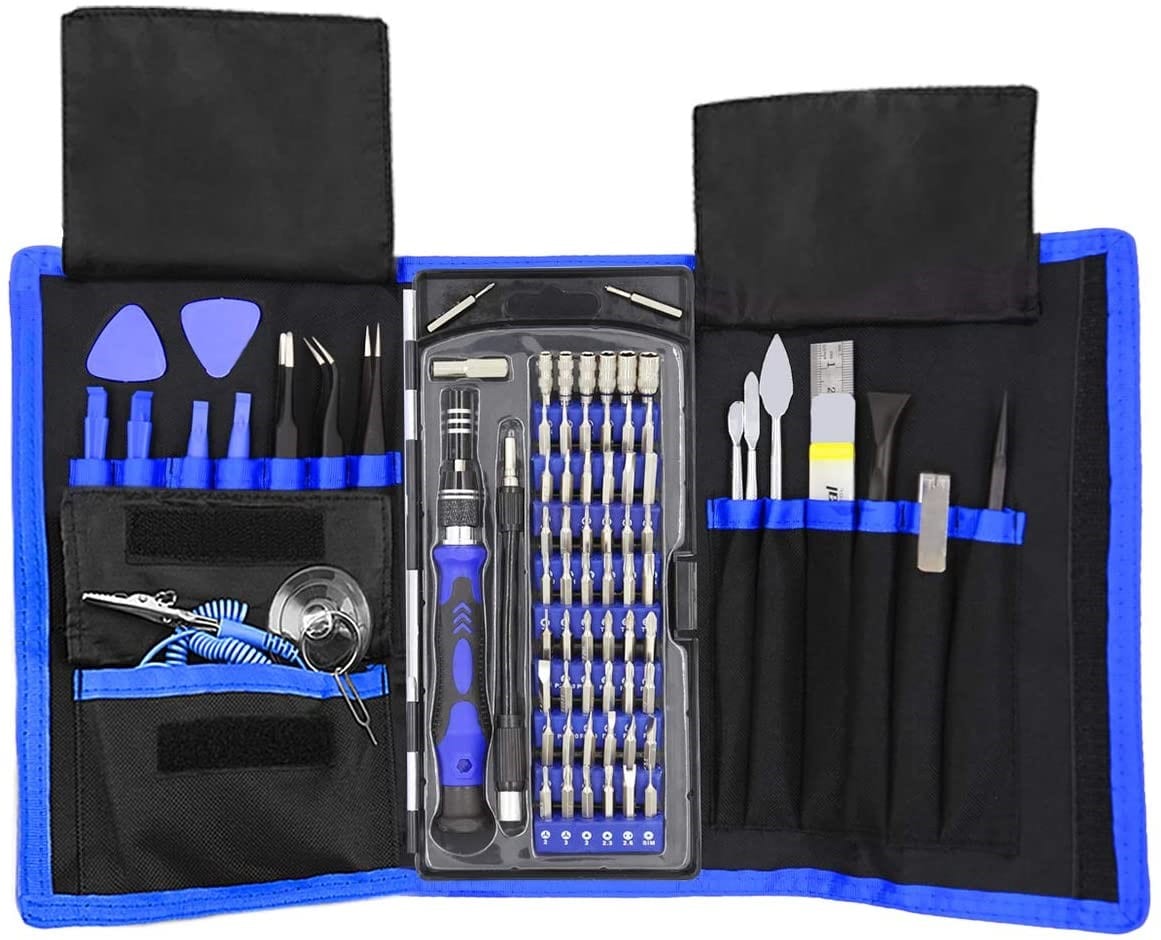 This toolkit is designed to cover a wide variety of tasks and applications. It is a precision professional toolkit that is designed to serve all popular devices and gadgets, as well as other electronics. Whether you are an amateur or a professional in the IT world, you can work with computers and other devices by using this kit.
The tools in this toolkit are all of the high quality. The 56 bits that are included are manufactured out of S2 steel, which is high in hardness, great in toughness, durability, and strength. Each bit comes in a standard size, with flexible extension made out of high quality material.
The precision screwdriver set also comes with more tools, including anti-static tweezers, utility knife, anti-static wrist strap, LCD suction cup, SIM card ejector pin, triangle plectrum, plastic spudgers, SIM card shells, metal spudgers, magnetizing and demagnetizing tool, along with others. Add along the special Y-tip and Phillips screwdrivers for removing the middle plate screws from iPhones.
Portability is also at its best with this set, as all of the tools come in storage back made out of Oxford, thus giving protection and easier carrying and storage. Its handy and lightweight design makes it more portable.
Best Soldering Kit for Technical Use
Editor's Rating:
This 15-in-1 soldering kit includes a soldering iron, 2 soldering tips, a disordering pump, soldering iron stand, tin wire tube, wire stripper cutter, tweezers, 2 electronic wires, 2 multimeter pens, digital multimeter, precision pocket screwdriver, and others.
The soldering iron in this set comes with an on/off switch, with an adjustable temperature, being able to be heated rapidly in 30 seconds. With an LED indicator as one of its features, this set is energy saving, while ensuring safe welding. All you need to do is to turn it off after done using it.
It also comes with an insulating silica gel cover, which is designed to protect the iron effectively against dropping or overheating.
The soldering pump in this set comes with an aluminum bronze frame with a high-pressure vacuum that easily removes solder from the printed circuit board. It also features an easy-to-use digital multimeter that measures dais voltage, resistance, DC and AC current, transistors, and continuity test.
Perfect for a Variety of Use
Editor's Rating: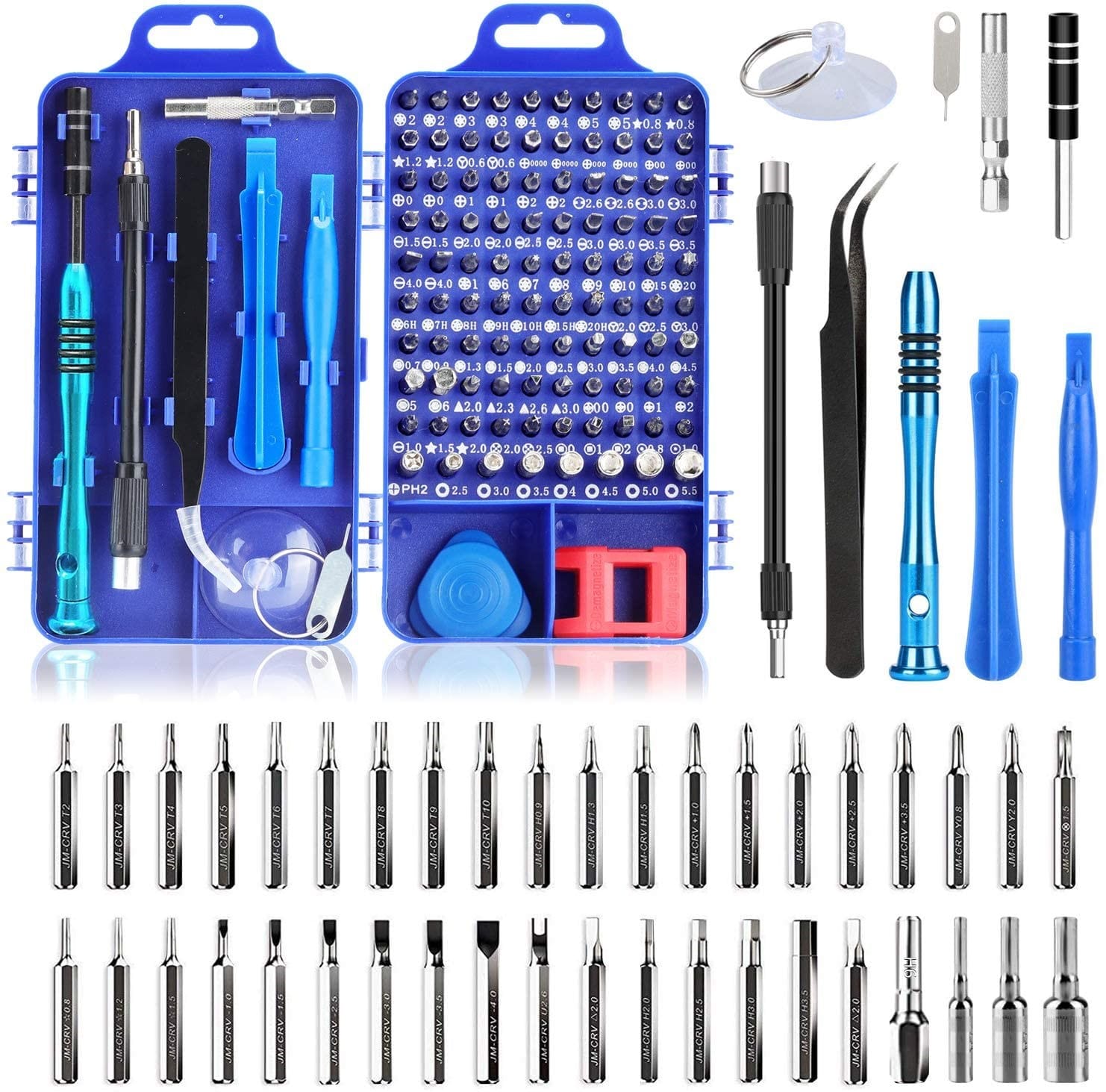 This multi-magnetic screwdriver set is a multi-function, and interchangeable precise manual took kit. This means that it comes with all of the needed tools that can perform a wide range of jobs. The tools in this set are perfect for repairing laptops, mobile gadgets, as well as other precision items such as eyeglasses and wristwatches. It comes in a compact and lightweight design.
This set is perfect for wide use, such as for repairing tools for iPhones and Ipads, other tablets, laptops, Personal Computers, glasses, watches, cameras, as well as other electronic devices.
The magnetic screwdriver set features heads that are magnetic and manufactured using impact-resistant tool steels, as well as chrome vanadium steel. They can also tighten the screws on repair, thus improving performance while saving time and effort.
These tools come in an easy to carry and portable box, convenient to place inside a travel bag, toolbox, or car.
Buyer's Guide – The Most Important Tools to Include in Your Electronic Toolkit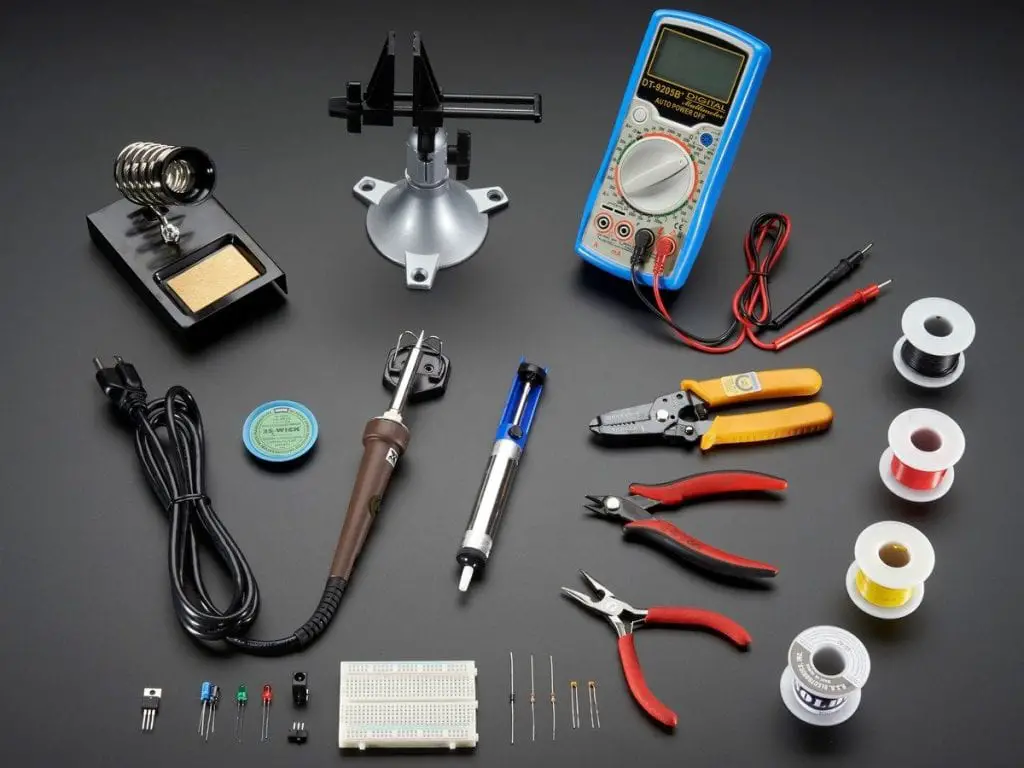 When it comes to checking which of the electronic toolkits mentioned in the review above is the best to buy, some factors need to be taken into consideration. Here are some of them:
Variety of Tools Included
Consideration needs to be done on the actual tools that are included in the kit. After all, some may be extremely useful, while others may not really be necessary. The following are some of the most important tools that should be included in your electronic toolkit:
Screwdrivers
One thing to note about screwdrivers is that for every type of screw, there is a screwdriver that matches it. For most task requirements, a standard selection of screwdrivers is what you need. For electronics tasks, a set of both specialty and miniature screwdrivers is needed for these situations.
Pliers
Even though the pliers that are readily available from hardware stores are acceptable for a number of tasks, they are not always perfect for working with electronic devices. For example, common pliers come with large jaws that are ideal for difficult gripping bolts. However, they are no good match for resistor leads.
Wire Cutters
Similar to pliers, the usual wire cutters that are typically available from hardware stores are only suitable for cutting wires from automotive works and home wirings. However, they are not really designed for electronics.
Wire Strippers
If you need to strip the insulation out of wire, using a pair of diagonal or flush cutters can be somewhat risky. Unless you are highly skilled, there is a likelihood that the wire will get nicked, thus causing the wire to actually break.
Crimping Tools
If you need to deal with connectors that use crimped terminals, a crimping tool is a requirement. These crimping tools come in different varieties, from basic things which look similar to pliers, to devices that are aerospace-grade. These devices usually come with dies, or interchangeable crimping parts, for a number of contact sizes.
Storage and Packaging
Of course, some electronic components can be really small, that tracking them can become difficult. As such, it would help a lot if your toolkit comes in a package set that will take care of both storage and packaging. This will also ensure that the tools are kept safe when not in use.
Brand
While looking at the brand to make a decision can sometimes be subjective, reality dictates that there are certain brands that are not really built to last. Therefore, it might be good to look at brands with a tested reputation in creating tools for the electronics sector. This will ensure that they will last for a long time while securing the functionality of each tool at the same time.
Conclusion
During the past decade and the last, we have been dealing with electronic devices. Having somebody else do the fixing for you may be convenient, but there is something about doing the fix on your own. You will not only enjoy the thought of doing so but actually experiencing the satisfaction of being able to fix something that is not working.
The list above includes the most popular choices out there, as suggested by others who have used them. However, each of them comes with their own advantages and disadvantages, including features. Feel free to assess your needs and make a decision from that. By doing so, you will be able to make a wise and informed purchasing decision.