In the age where most people depend on streaming services to watch movies and shows, some might think that DVDs have become obsolete. On the contrary, DVDs are still very much in use, as they adored by collectors, people who love watching movies, and people who still want tangible things that they want to watch online.
But, aside from that, DVD players come in portable sizes. They are easy to bring with you when you travel, and this lightweight models give you the chance to watch even when you are in a car or on a plane.
Modern portable DVD players come with surprising, impressive qualities, and some can last for hours of watching, even when rechargeable batteries are the ones that give them power.
However, since the DVD market is not as large as it was, it can be a little hard to buy one of these. It is not because of the lack of options but because of the thousands of brands to choose from. In this article, we review the top 10 best portable DVD players so that you will be able to find the best one to match your tastes.
What Are the Benefits of Using Portable DVD Players?
Portable DVD players are easy to use and compact gadgets that can allow people to watch movies and series without having to install additional software and without having to rely on internet connection. You can watch wherever you are, even on flights, and it is perfect for a buffer-free offline watching experience. Portable DVD players are also very affordable for the quality of their offers. It would be a great gift for children or elderly family members, so they have something extra to do to pass the time. It is also a great gift to a friend who loves watching movies and other shows.
What Is the Best Brand for Portable DVD Player?
If you are searching for a portable DVD player, there are many options that you can choose from. These brands carry quality models that offer distinct uses that you can benefit from. But, as there are still many options, we have compiled a list for you of the top 10 portable DVD players in the market.
1. APEMAN Portable DVD Player for Kids and Car
BEST FOR KIDS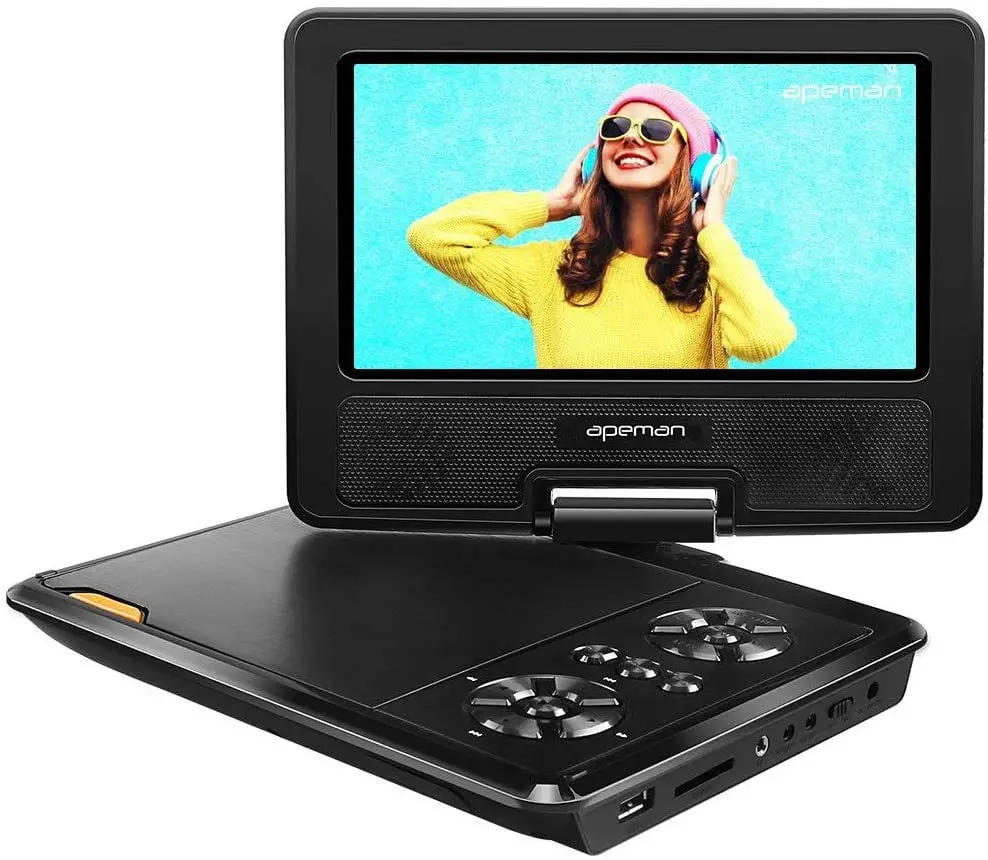 Can be easily stored anywhere
Easy to operate, compact, and lightweight
7.5-inch screen size that has a screen that can swivel 270 degrees rotating and 180 degrees folding back
Comes with accessories including a remote controller, wall charger, and car charger
Equipped with a game USB port for joysticks to play a game
One of the smallest models in this list, this portable DVD player from APEMAN is a great option you can go for if you want something that is very travel-friendly. Most of the consumers prefer to use this specific model to provide for their children, as it allows console connection, which allows a person to play games on a larger screen.
Though its small size means it cannot come with a larger and more powerful battery, it still can work well for about 4 hours, which means you can watch a few episodes or a couple of movies.
Children will also enjoy how easy it would be to learn about this player's controls. This would mean parents or guardians will not be required to adjust and tweak the player constantly, as the kids would be able to do things on their own.
2. WONNIE 9 inch Portable DVD Player for Kids, Travel DVD Player for Car
PARENT FAVORITE
Easy to understand interface is perfect for children and beginners
Has three different power modes
Has a battery running time of 5 to 6 hours, at 5000 mAh
Has a 7 inch 800 x 480 swivel screen that can be rotated to 270 degrees and 180 degrees flipping design
Multiple support capability, including CD, DVD, WMA, AVI, DVD-RW, VCD, XVID, VOB, USB drive, and SD card
If you have a child whose attention span is hard to maintain while you are on the road, then you should consider picking up this model from WONNIE Kids. It has a great battery capacity – a whopping 5000 mAh, which means you can enjoy up to 6 hours' worth of screen time.
The package comes with 1 power adapter, 1 car charger, 1 3.5mm RCA AV cable, and 1 remote control. Its audio quality is quite loud enough, but you can also listen through headphones. This player contains almost all of the features that you need from a portable DVD player.
In totality, this DVD player is a decent choice if you are looking for a source of entertainment that will have them occupied for several hours. It offers high quality viewing, but it cannot support Blu-ray discs.
3. ieGeek 11.5″ Portable DVD Player with SD Card/USB Port
FOR GAMING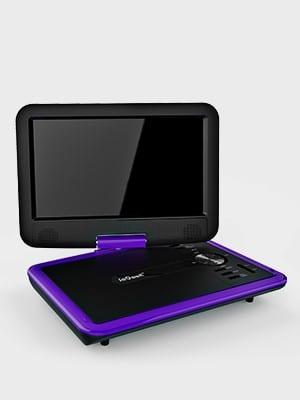 Has a 9-inch LCD Screen with a swivel screen that can rotate up to 360 degrees
Comes with 180 classic games to entertain users
Compatible with JPEG, MP3, MP4, CD, and DVD formats
Anti-shock protection for durability
Dual speakers for louder and clearer volume with a 3.5mm headphone jack for multiple listening options
If you want a pretty small portable DVD player model that you can easily bring anywhere and would fit a small bag, this model for the ieGeek might be the one that you are looking for. Compatible with numerous video formats, it can help you to view and stream the content you want to use within a quick amount of time.
For a petite DVD player, this model is well-known for having a pretty loud volume. But, it can be a little lacking in volume for open spaces, so using a headphone is still recommended.
In terms of its redeeming feature, this DVD player boasts a screen that is easy on the eyes. Its screen is clearly designed to be eye-friendly, which means it can protect the eyes against the reflection of the sun and blue light. If you tend to be a fan of binge-watching, this can be a great option to get because it can last you for a long time.
4. BOIFUN 17.5″ Portable DVD Player with 15.6" Large HD Screen
BEST FOR THE ELDERLY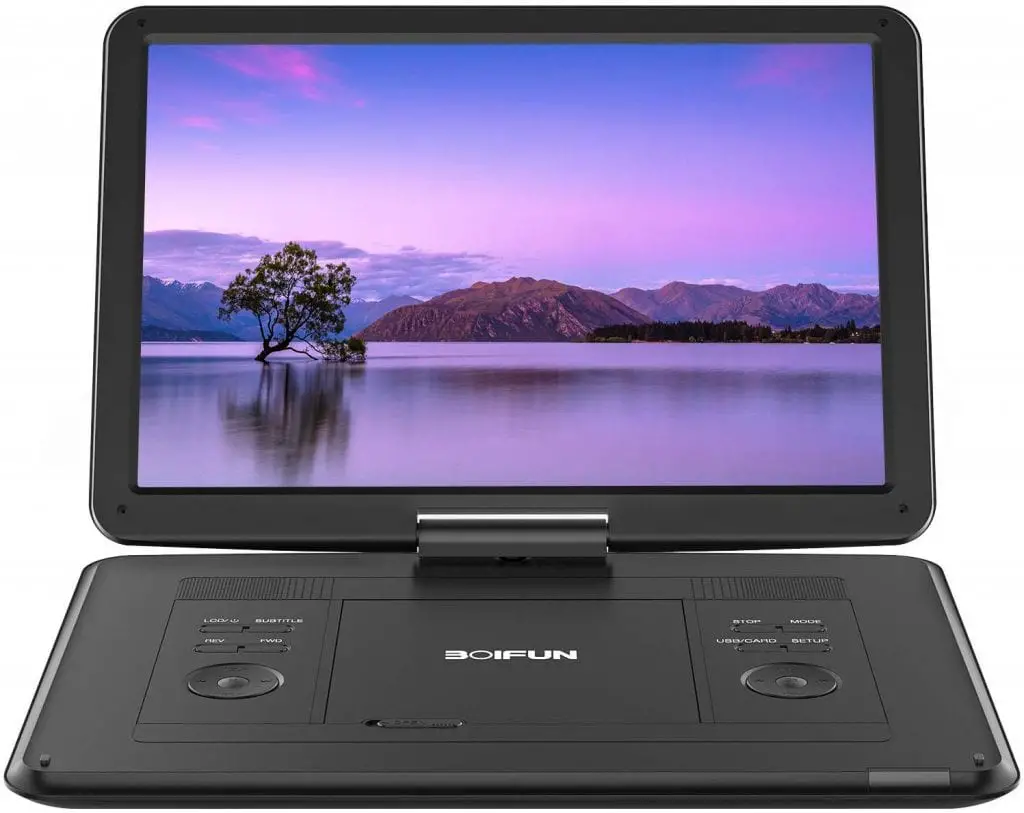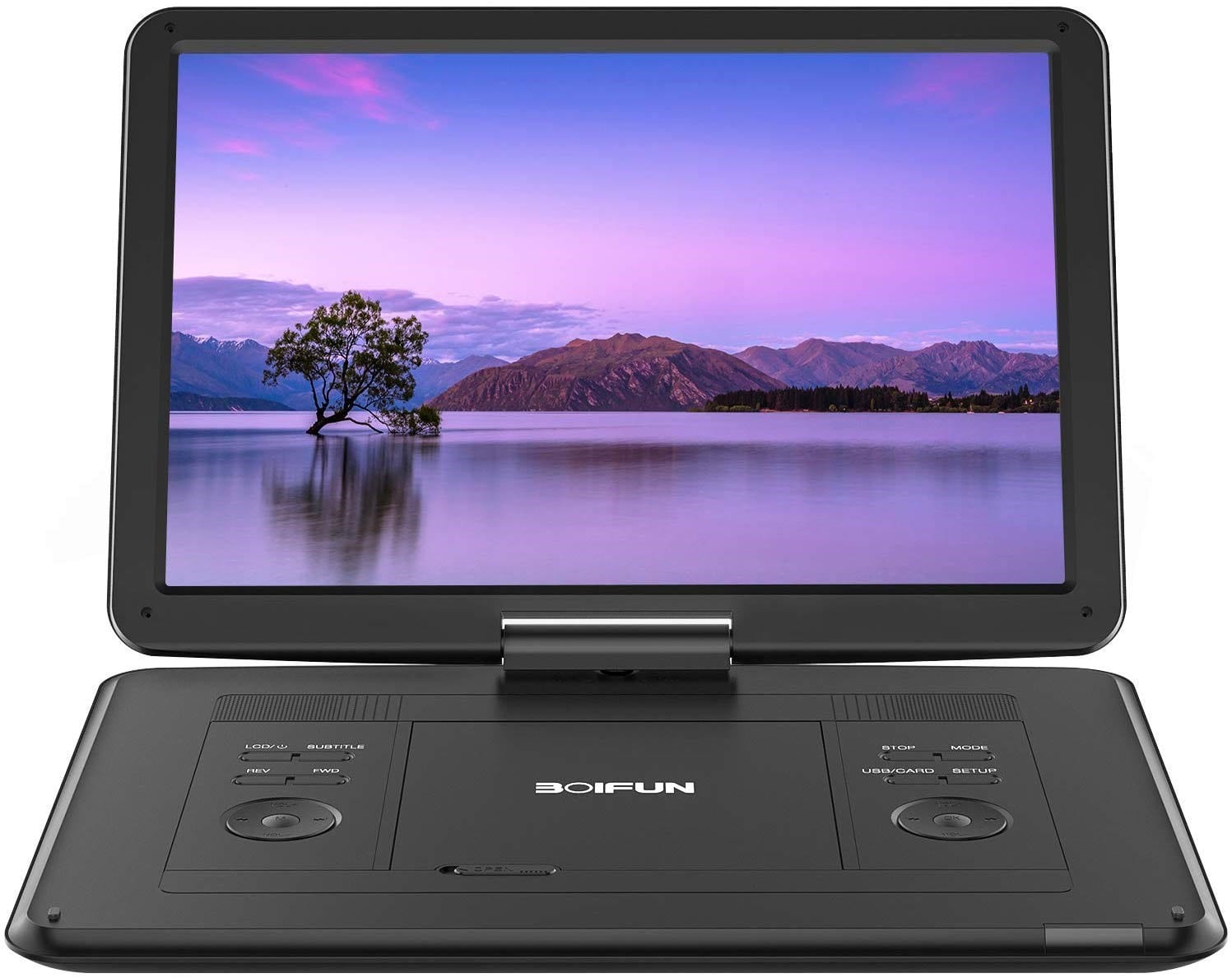 15.6-inch screen with a 1280 by 800 HD swivel screen, 270-degree rotation & 180-degree flip feature
Anti-shock function, simple system, and loud volume
5000 mAh that can last up to 6 hours non-stop playing
Supports the formats of CD, DVD, VCD, AVI, MPEG, WMA, MP3, VOB, USB, and SD Card
Elegantly designed with a beautiful and classy screen, this DVD player by BOIFUN boasts great usability that is pleasing to the eye. It features the usual type of swivel option and works with an average of 6 hours, which is perfect for two movies, even at maximum volume and brightness.
The package comes with an AC power adapter and an extra car charger, which means that you can prolong the life of your DVD player if you charge along the journey. It also has a looping playback functionality, protected disc reading, anti-shock protection, and an A-B repeating function.
If you have to pause on your watching, this player has a model of the Last Memory function at the Settings mode. This memory tool can help you by picking up from where you left off during the last time.
5.  HD JUNTUNKOR Portable DVD Player with 5 Hrs Rechargeable Battery
BEST CAR DVD PLAYER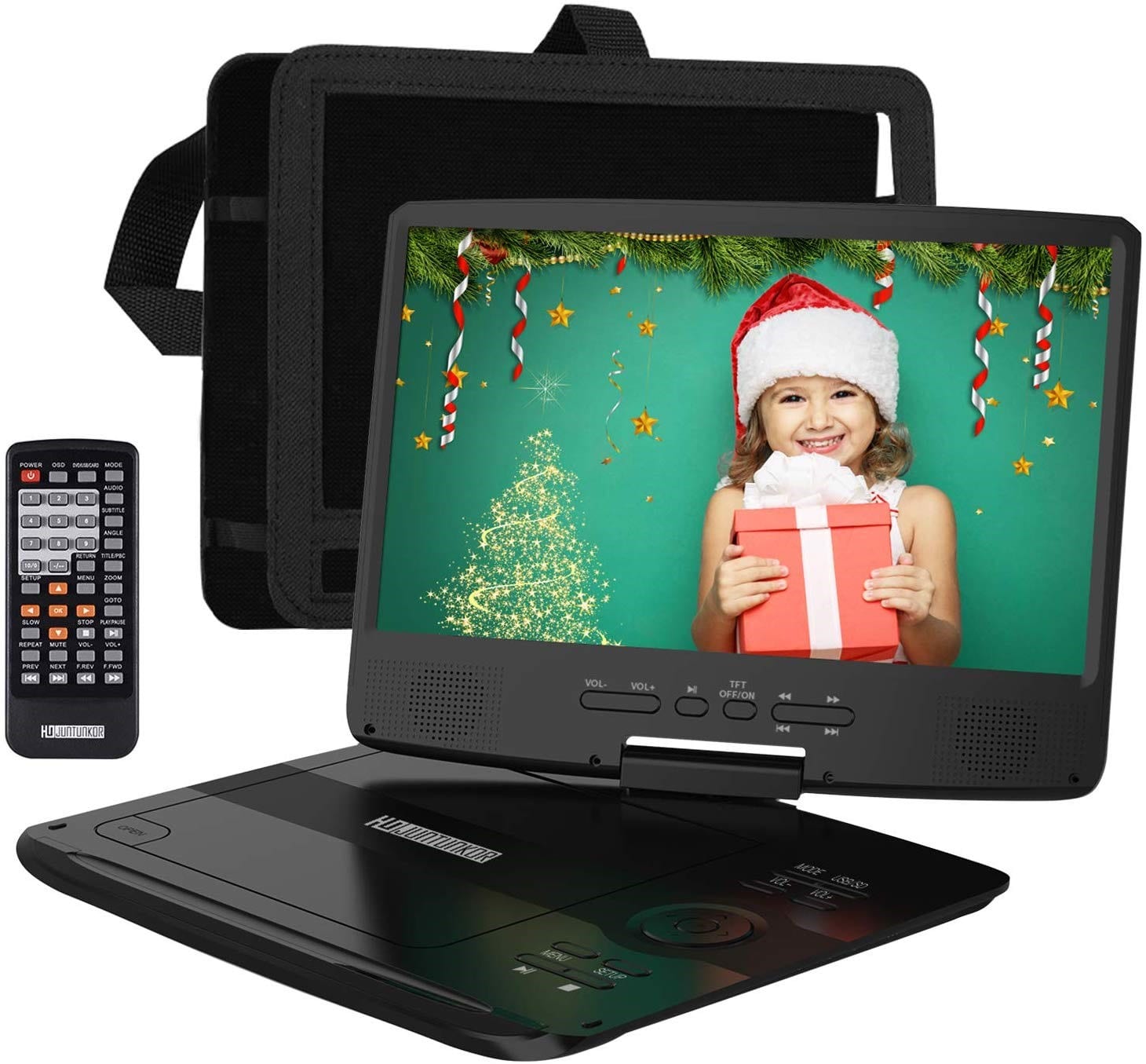 3 Power Charging Modes – power adapter, 1.8m car charger, and 5 hours upgraded battery capacity
Supports Multiple File Types – CD, DVD, CD-R/RW, DVD -R/+R, DVD+RW/-RW, VCD, SVCD, max 32GB USB, SD cards for playing MP3, WMA, WAV, JPEG, MPEG2, AVI, and DIVX
BreakPoint Memory Function
2 sets of operating systems, one for daily viewing and one for onboard viewing
High resolution of 1024 by 600
The portable DVD player made by HD JUNTUNKOR is considered as the industry leader in the production of ultra-realistic displays, which makes it be one of the best models to pick out of all the options in the market.
Like other models on this list, this player has the standard 270-degree swivel rotation and the 180-degree flip. Basically, this means that it is up to the user to position the screen on the best angle and viewpoint whenever they are using this gadget.
This electronic gadget is deemed as the best one for cars because it is the optimal choice for back-seat users due to its versatility. The beautiful screen of this device is also partnered with amazing features, including its ability to cater to different file formats and point-break users that make it very easy to pick up where they have left off.
Another unique feature of this portable DVD player is that it integrates two separate operating systems within its interface, depending on how you will use it. Because of it, it makes viewing on-board, and daily viewing appears much better.
The second reason for this model to be considered as the DVD player perfect for cars is the customized car bag. It will make watching much easier, especially for back seat passengers.
6. DR. J Portable DVD Player with HD 9.5″ Swivel Screen
MINI PRIVATE THEATER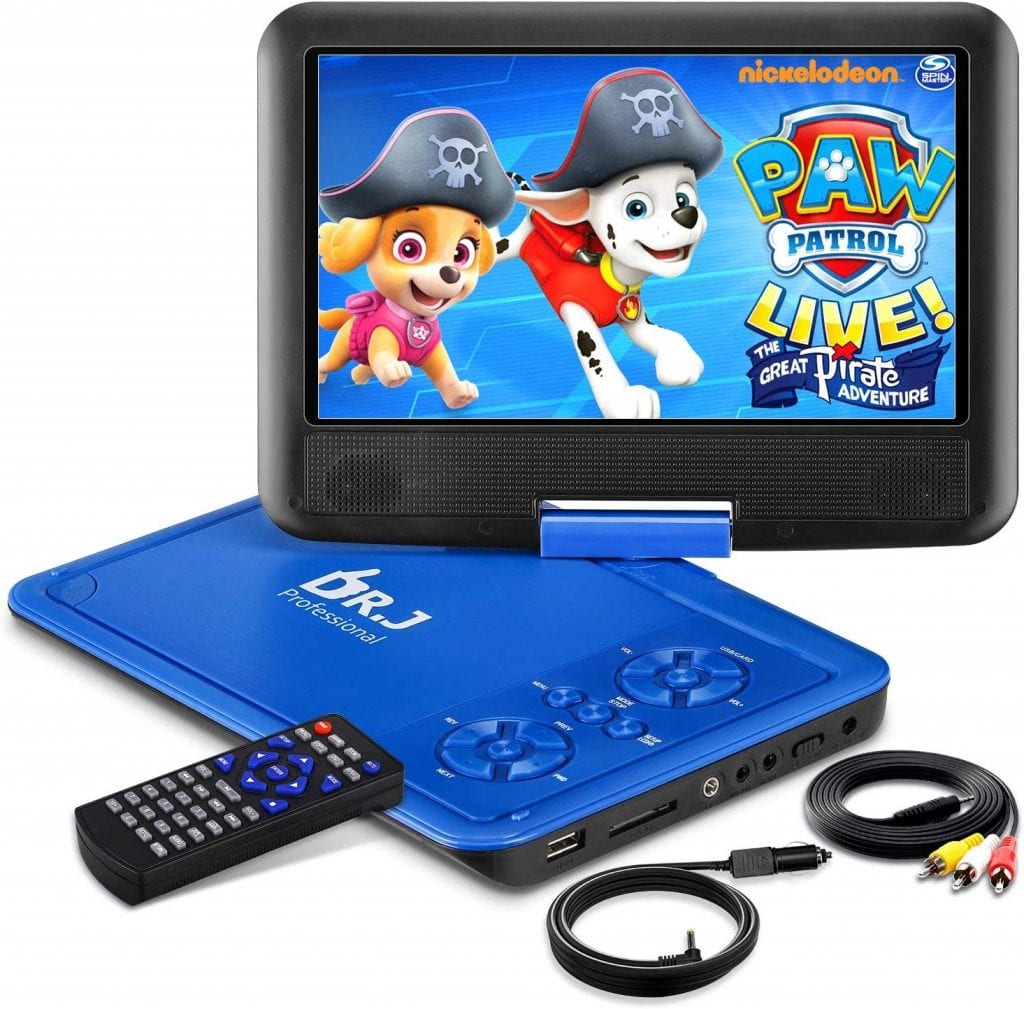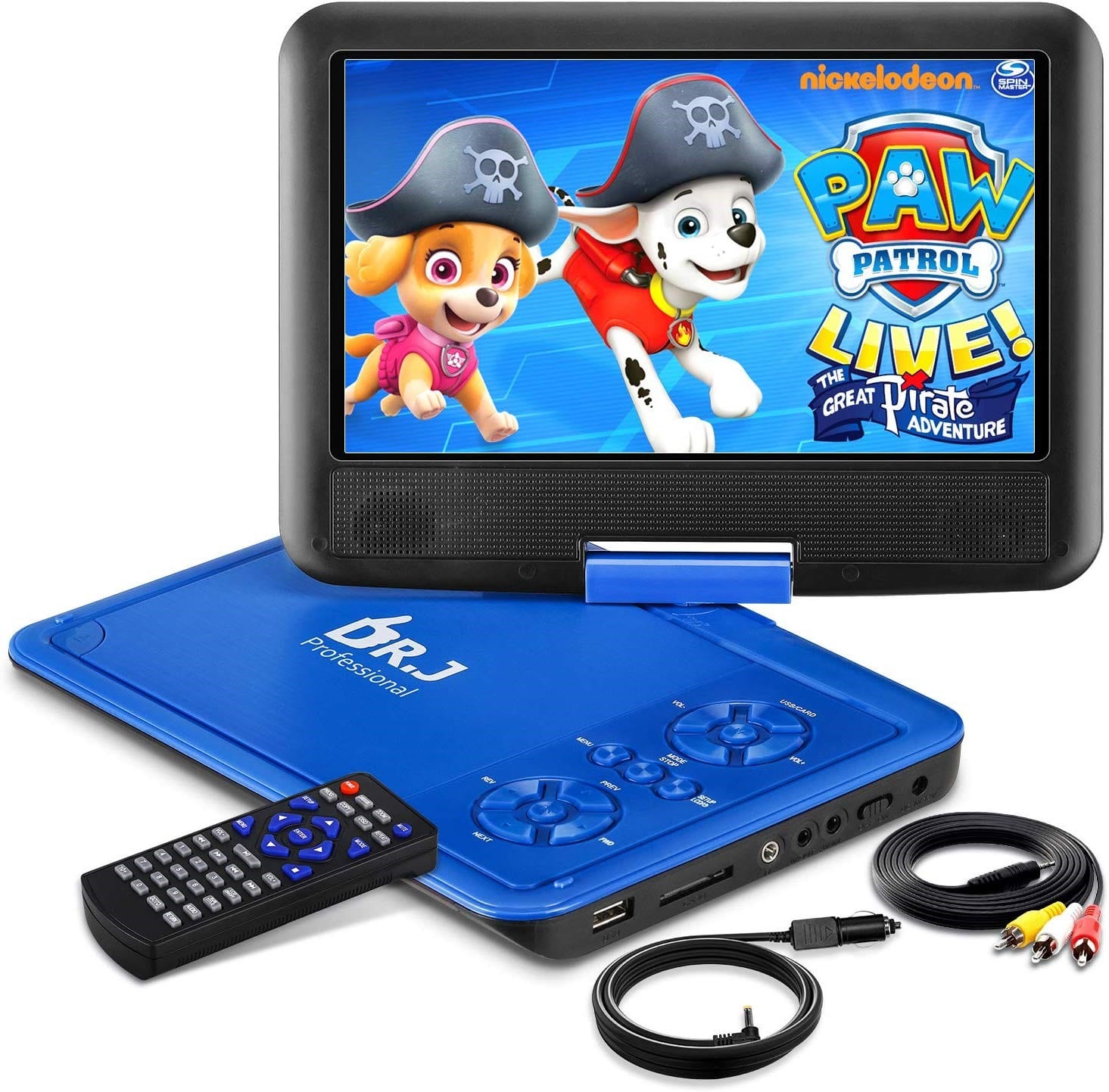 Multiple ports for board application, including USB ports, SD slots, AV In and AV Out slots, and other audio jacks
Breakpoint memory function
Compatible with all types of media formats
Swivel screen and attachment to a car headrest
3,000 mAh battery which can last up to 5 hours
Commonly given the tagline as a mini private theater, the DR. J Portable DVD Player is the product you should go for to allow entertainment for kids on the road or people stuck in a place with a poor internet connection.
This portable DVD player is considered for its main feature of a swivel function, which can extend to the rotating ability of about 270 degrees in rotation and a flip design of 180 degrees. This is a perfect way to attach the player to the headrest of your car when you are on a road trip.
If you are staying at a hotel or if you are just craving for a larger screen, you can successfully connect the player to the television. If you want a quicker file transfer, you can also connect the player to your smartphone.
To get the best experience when you are using this device, there are a few things that you must keep in mind. First, make sure that you are wearing headphones while you are watching so that you can enjoy the best sound quality. If you are listening while you are outside, you should make sure that you stay away from water as having water seeping in can damage and ruin your DVD player.
7. 17.9" Portable DVD Player with 15.6″ Large Swivel Screen by COOAU
WIDEST SCREEN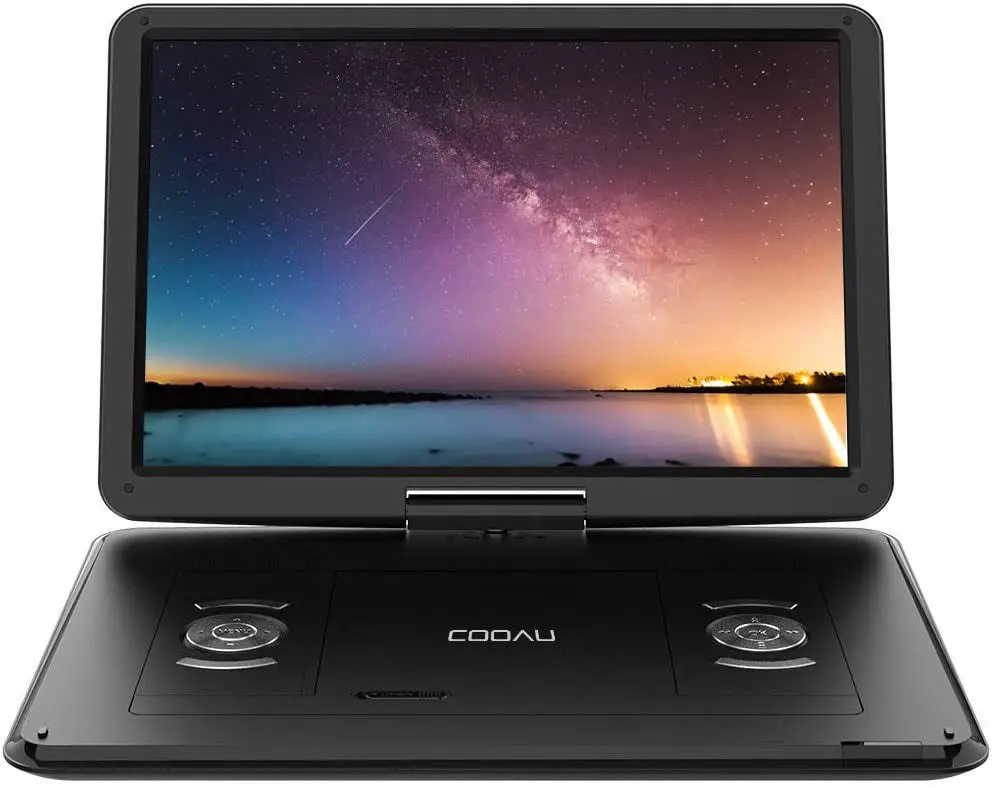 Smart Format Compatibility – Supporting almost all DVD formats and video formats via USB or an SD Card
Reliable Lasting Battery at 5000 mAh that can last up to 6 hours
Wide Screen at 15.6 inches, with brightness enhancement and swivel angle
Credible Brand Reputation
Pre-reading, anti-shock, and breakpoint memory
Are your priorities for a DVD player are functionality and runtime? If your answer is yes, then this DVD player from COOAU would definitely be a great option for you. Though its design is simple, it has amazing aesthetics, which surely makes it very desirable.
Though most players average 10 to 12 inches in size, this one has a 15.6-inch screen, while maintaining the 270-degree swivel. Running at six times, this gadget would surely love the entire runtime compared to different players on the market.
Overall, this player offers the best innovations in the DVD industry. It integrates technology with compatibility and versatility, which makes it very easy to adore this model.
8. DBPOWER Portable DVD Player
BEST VALUE FOR MONEY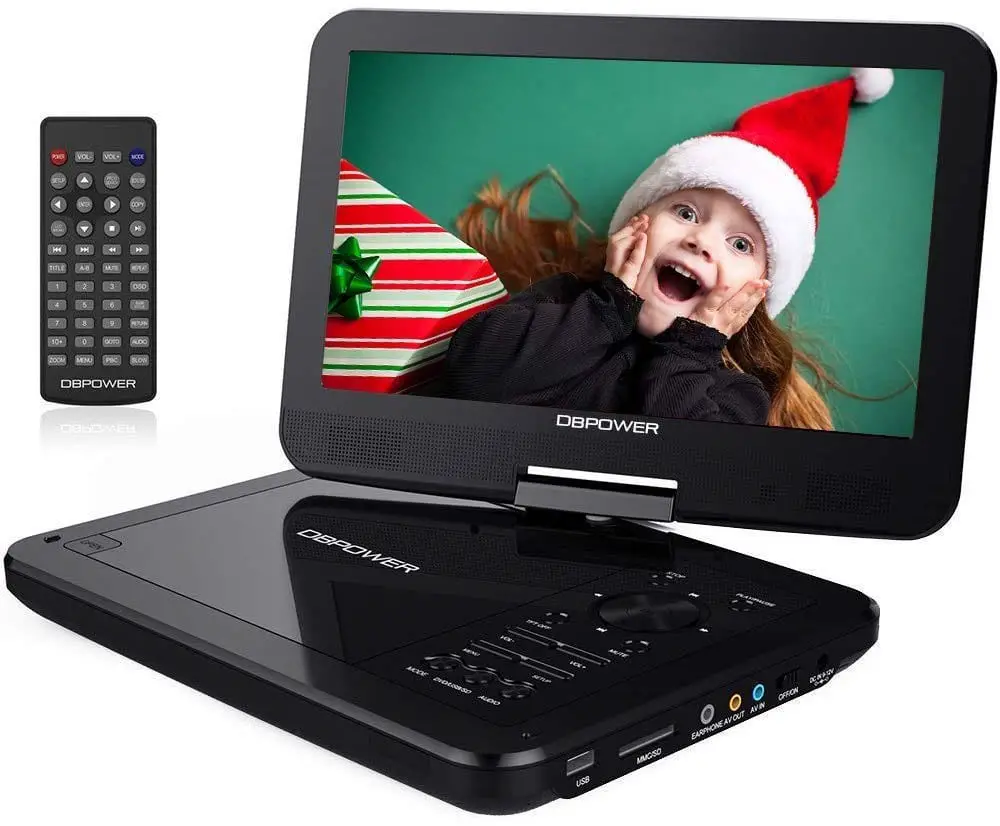 Ideal screen resolution
Large 12-inch screen
Easy to access and use
2,500 mAh built-in high-capacity rechargeable lithium battery
Supports a wide array of multimedia formats
Different playing options
A strong competitor against other DVD players on the market, this DBPOWER Portable DVD Player boasts its amazing features with an added bonus of a larger screen. It makes watching a better experience, especially because of the better visuals.
It supports a wide range of multimedia, and it allows the use of USB and memory cards transfer and access data. It has top-notch sound quality that is not only appropriate for watching movies – it is also perfect for listening to music.
This is also equipped with a break-point memory, which allows users to pick off just where they have left. This process is perfect for those who love watching shows and series because this will eliminate that they have to remember where they stop.
If you know how to care and maintain your player, your DBPOWER model will surely last you a long time.
9. DBPOWER Portable DVD Player 9.5
BEST SELLER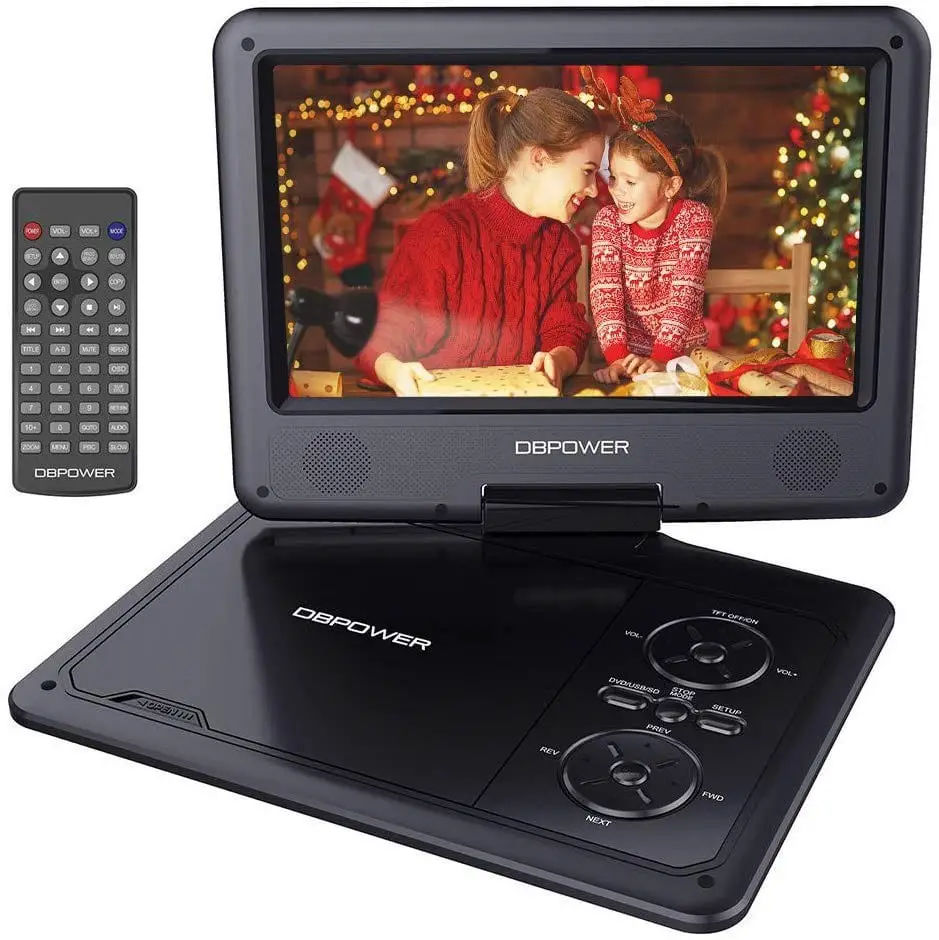 Can be used just like a tablet
Has a great swivel feature as opposed to other DVD players
Responsive programming and simple interface
Quick navigation
5-hour running battery
The DBPOWER Portable DVD Player, which is the second one on our list, is one of the finest products that are available in the market today. It combines both aesthetics and functionality.
This Portable DVD Player caters to all types of video formats, which can be enjoyed by all types of people. This way, you do not have to worry about software transitioning. It also provides excellent battery timing, with a satisfying run time of five hours.
The device has amazing swiveling features, which would make this perfect for different environments. With a 180-degree flip and 270 degrees rotation, you will never have to worry about issues on visibility and ease of use.
10. APEMAN 10.5" Portable DVD Player
MOST AFFORDABLE OPTION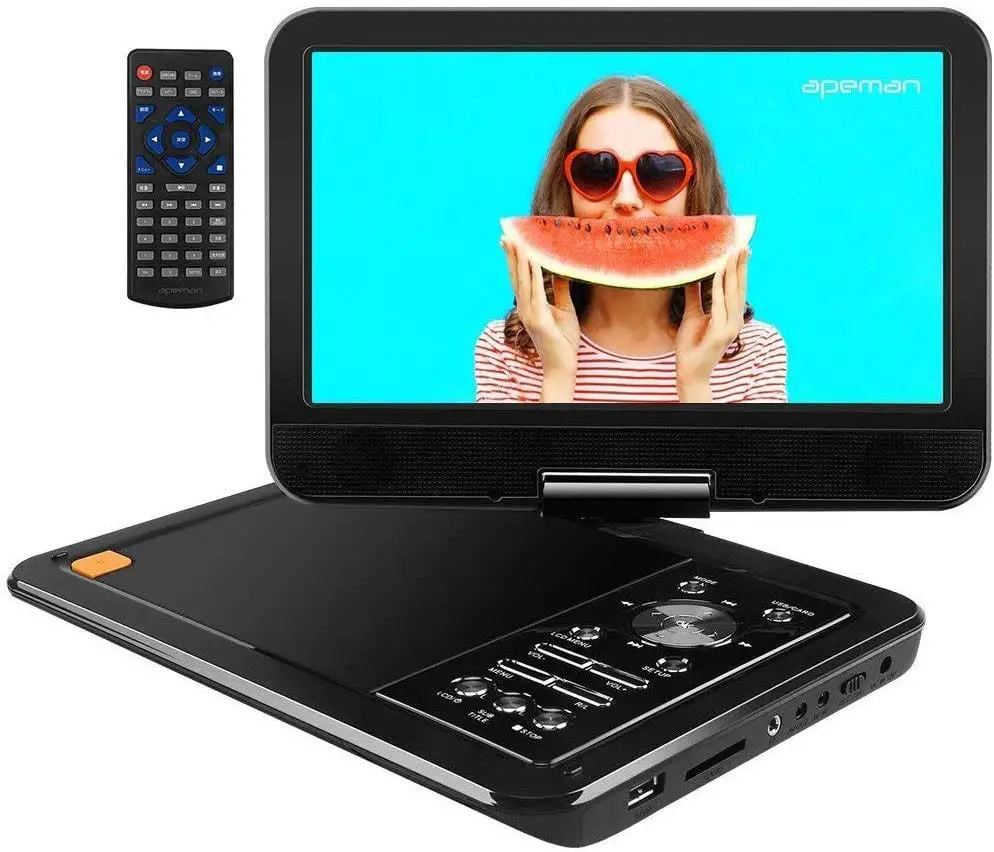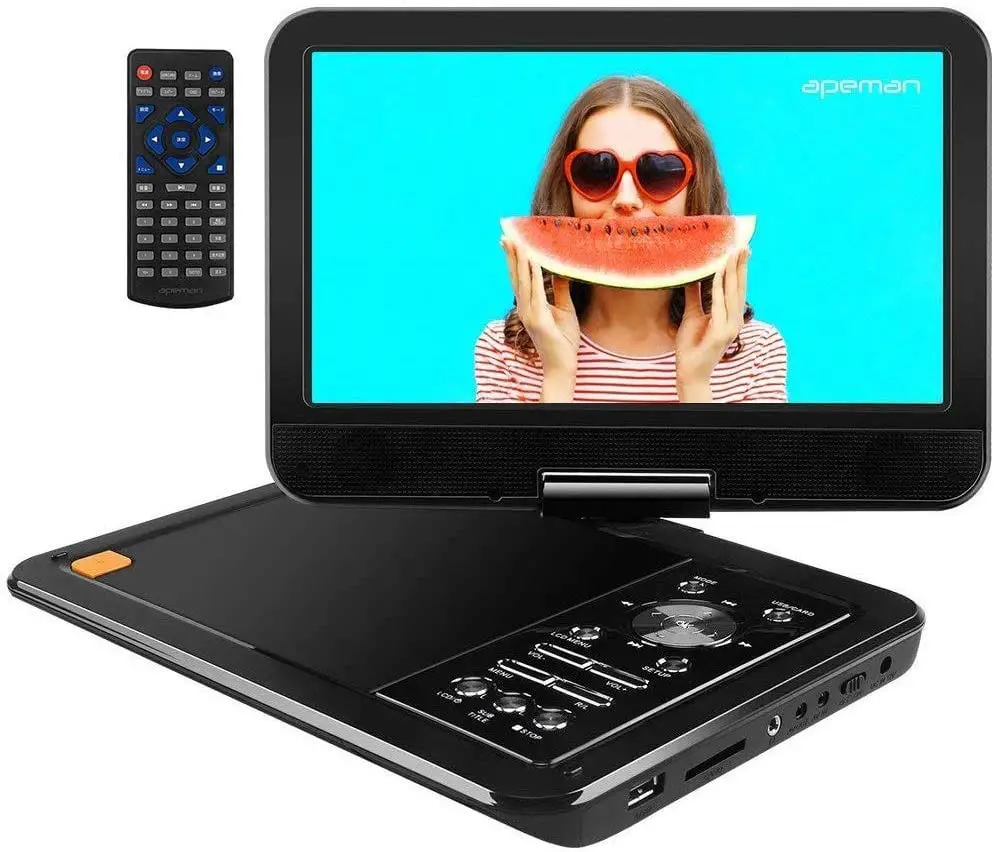 Includes a 3-in-1 cable
Available game and console connections
Supports various audio and video formats
Comes at a complete package, including all accessories
Durable, with high quality, and can last for 5 hours
Last but not least, on our list, this portable DVD player from APEMAN is a great option to own. It is light, portable, and is very portable like other DVD players. It also comes with other necessary equipment that is required to get a great experience.
It also comes with a 3-in-1 cable that can make it very easy for you to connect the player to almost anything when you need to have it charged. You can also get an outlet charger that you can use for different outlets.
If you are looking for a beginner-friendly model, this DVD player is easy to operate, and this would definitely be a good starting point. It also has amazing sound quality with a clear and crisp projection.
Portable DVD Players Buyer's Guide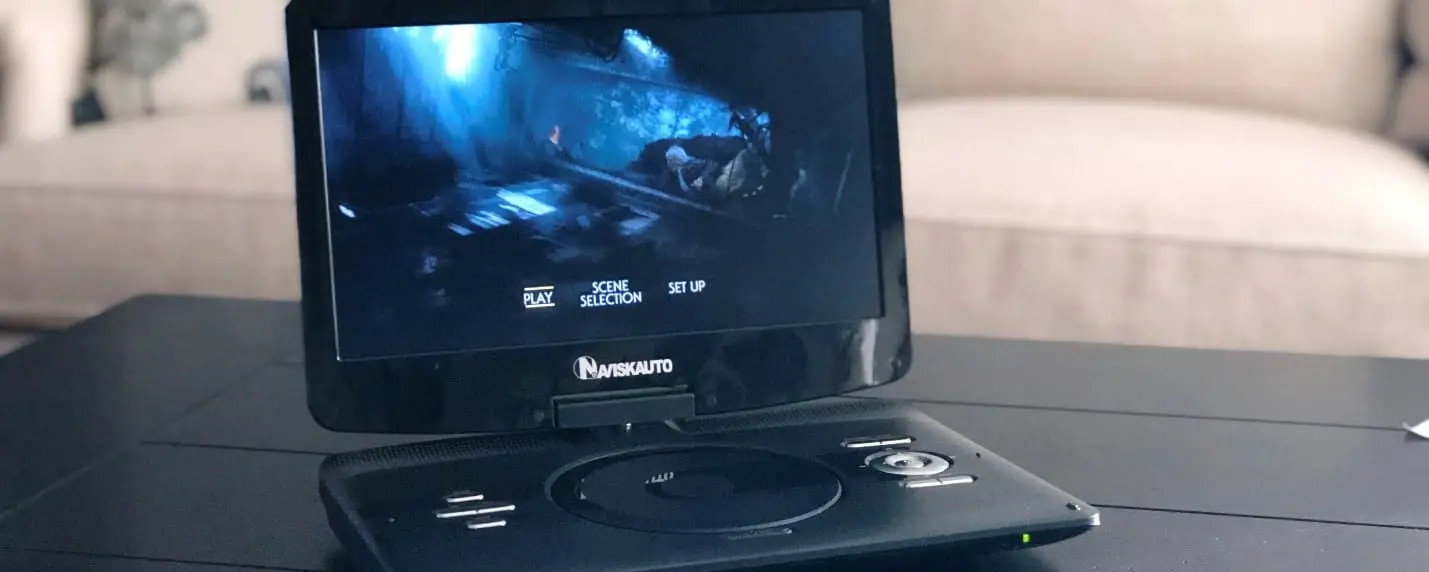 Deciding for a portable DVD player can be extremely intense, especially when there are so many great options that you can choose from and when you are still not sure what you are particularly looking for. Here is a simple checklist of factors that you have to look for in your portable DVD player.
1. Battery
One of the most important features of portable DVD players is how long you can use them until they run out of battery. Though they boast different strengths, most of them can only operate for 3 ½ to 4 hours – at most. That can still be around 2 movies or 4 episodes of your favorite series. If you want, there are options that can are compatible with car chargers, but there are options that only work with wall sockets.
2. Video Quality
When you are watching visual content, the quality of the video can affect how much you enjoy the movie or series. With portable DVD players, what you should prioritize is a full HD display as it comes with brilliant colors and amazing visuals.
3. Audio Quality
Aside from visual excellence, it is also very important that it is partnered with great audio. The recommended is usually on an output level of about 15W up to 45W. You can still find some that are even higher.
4. Connectivity
Just like the times, portable DVD players have also evolved a lot. Aside from the usual DVD discs, some models also have SD card slots, USB ports, or both. You should also check on the if there is a headphone jack and if it works well.
5. Versatility
A good portable DVD player can offer compatibility with a wide range of formats, including different audio and video files. You should also check if it compatible with playing CDs and VCDs, aside from DVDs.
FAQs
What are the best DVD players for cars?
There are many great DVD players that you can use for your cars. You can use our list to go through 10 of the top brands on the market.
When did portable DVD players come out?
Portable DVD players were first discovered in 1998, and they were created to broaden the range of DVDs and allow people to watch them wherever they go. It was first introduced by the brand Panasonic.
Can portable DVD players play CDs?
Generally, all DVD players will play a CD. But CDs can only provide audio, so you should not expect any video.
Final Thoughts
Having a portable DVD player is really useful for countless reasons, and they are absolutely a wonderful source of entertainment. It is a great way to kill boredom and a great way to pass the time.
Our overall pick on the top 10 list is the COAAU Portable DVD Player because of the large screen that is perfect for that high-resolution display and the amazing crispy quality of the audio. It can support most file formats, and its battery is powerful enough to last for a long while.
We hope that our guide can help you decide on the one that you will buy. Consider who you are buying it for, what the main purpose is, your budget, and the specific feature that you feel would be most important.