For people who live in the modern age, a day without connecting to the Internet can easily turn out to be a disaster, especially if you are used to having one, but due to some technical problems, your connectivity is affected. The good news is that there is a solution to this problem. It comes in the form of a desktop wireless adapter.
This device offers connectivity between your devices to the web, wherever and whenever you want it. Since this technology was warmly embraced by many users, the introduction of different brands and names have saturated the market, making the decision process quite daunting.
To help you out, we have come up with a list of the best desktop wireless adapters out there. We have also listed some tips on how to choose the best ones that will meet your needs and preferences.
Reviews for the Best Desktop Wireless Adapter in 2020
ASUS USB-AC68 AC1900 Dual-Band USB 3.0 WiFi Adapter – Best Overall Wireless Adapter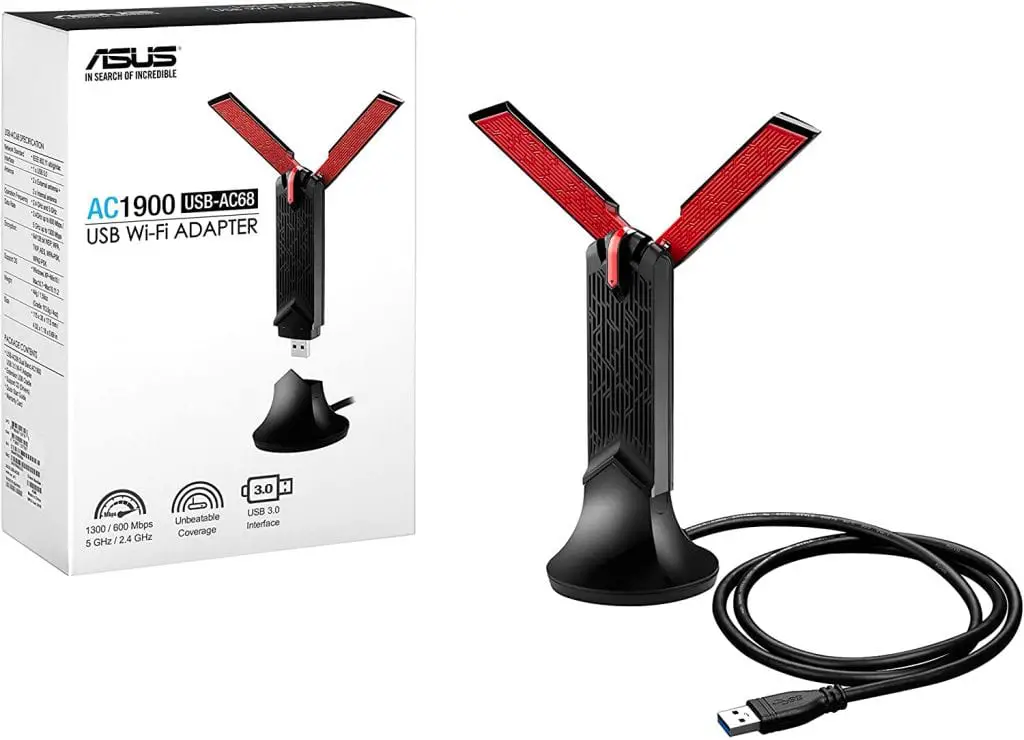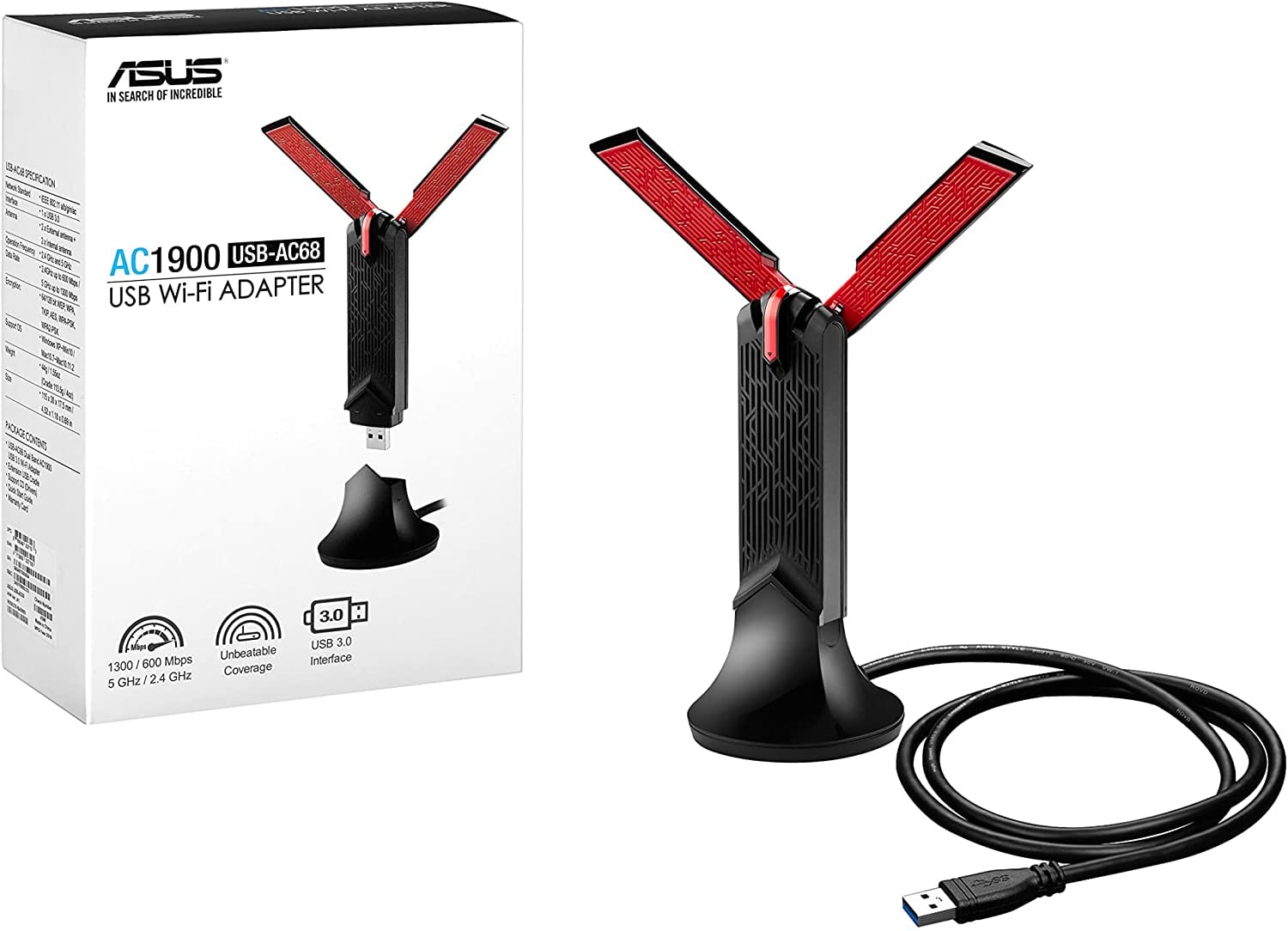 There is a common misconception that USB WiFi adapters are really slow. However, modern versions of adapters can actually provide you with an amazing data speed transfer. This is what ASUS USB-AC68 can offer.
It features a 3-position external antenna along with a dual one inside. With these capabilities combined, you can expect a dual-band AC1900 WiFi connectivity that assures fine coverage and higher throughput for both desktops and laptops.
These antennas are also foldable, which is why it is an amazing addition for laptops that usually need portable items such as these. At the same time, they also offer powerful reception when open. It runs using a USB 3.0 jack, which provides extra options for placement so as to optimize the coverage of the desktop.
Aside from its improved 3×4 MIMO design, it also features ASUS AirRadar Beamforming. This means that you can expect to get an increased speed of up to 300% than the previous adapters.
This adapter makes WiFI connectivity even more reliable and powerful, all thanks to the Beamforming technology, high power amplification, as well as exclusive ASUS RF fine-tuning capabilities.
TP-Link Archer T9E AC1900 Dual Band Wireless PCI Express Adapter – Better Range and Stability
This wireless adapter for your desktop is not as cheap as other models, but its reasonable price is a good investment if you are after the features that it offers, along with some valuable options that it comes with.
The speed of the TP-Link AC1900 is at 600Mbps at 2.4GHz band, as well as 1300Mbps at the 5GHz band. This level of flexible connectivity allows you to select which one is preferable to you. It also supports a rate of up to 802.11ac wireless data rate, along with a backward compatibility feature too.
This wireless adapter also comes with Beamforming Technology. It takes pride in its ultimate range, which means that it uses high gain antennas, which further add better range and stability to the overall performance.
One thing that most users about this wireless adapter are its use of a WPS button. Having this extra wireless security encryption will allow you to gain confidence that everything is fine. The best part is that it can be accessed with just a single push of the button. It also features a speedy 3.0 USB port connectivity.
This model features a dual-band adapter, with its 802.11 AC chipset. This type of chipset offers the best compatibility. This only means that you can expect faster connectivity than before. With its dual-band technology, it can support all of your devices easily.
You will no doubt want an adapter that offers impressive speeds. With this model, you can expect up to 876 Mbps. This is a good upgrade for your desktop, especially if you need to use it for things such as playing games online. With its stable speed, you can also stream videos online in Ultra HD without worrying about any lags.
Another feature of this model is its advanced heat sink design. This is a cooling system that will ensure that your wireless adapter will work well. There is no need to purchase extra cooling because it is already built-in with this model.
It also uses very impressive Beamforming technology. It helps in ensuring a more reliable and stronger wireless connection. The antenna that is available on this adapter also plays a huge role in making sure that you enjoy connection stability and a better range.
EDIMAX EW-7811UN – Best Budget Desktop Wireless Adapter
This small wireless adapter seems to be the best choice for those who are interested in being able to save a good amount of money while enjoying a variety of options at an affordable price.
It offers a data rate, which assures the best range and the widest coverage. Its speed of 892.11n rate is actually six times higher compared with the 802.11b speed. The best part is that it is still backward compatible with the 802.11b/g also.
Another feature that is praised with this model is its Energy Saving Design, which ensures support, including smart, transmits power control, including an auto-idle state adjustment. It is also compatible with the WMM standard, which only means that you can enjoy better real-time data streaming.
This wireless adapter also has one 2.0 USB type-A port, with a data rate that reaches up to 150 Mbps. Also, it has a frequency band that ranges from 2.4GHz to 2.4835GHz.
It also comes with an interior chip antenna. It also features the EZmax setup wizard, which provides support to different languages.
D-Link USB WiFi Adapter AC1900 USB 3.0 Dual-Band – Eye Appealing Design
This model of wireless adapter offers dual-band, though it is possible to expect more with it. In fact, it offers connectivity at 2.4GHz and 5 GHz. With this capability, you can perform a lot more activities, including chatting online, browsing, video streaming, and more. Large file transfers are also possible, given that you have the best speeds offered by this adapter.
With its high powered amplifiers, this model also performs three times the actual range of standard wireless adapters that are currently available on the market these days.
With this model's USB 2.0 connection, you can enjoy fast speed all the time. This will allow you to transfer data that is 10 times than the standard USB 2.0 connectivity. You can also expect to enjoy better power management when you use this kind of adapter.
A bonus feature of this wireless adapter is its unique design. In fact, it is resembles something from those sci-fi movies. The design alone will want others to use it. In fact, one of the reasons why this adapter is very popular is because of its design.
It also works with all other types of routers. Even though you may have an old router or even a range extender, there is no need to worry about its compatibility. This model can work well with all types of WiFi routers and range extenders.
LINKSYS WUSB6300 – Ideal Wireless Adapter for Windows OS and PCs
This wireless adapter is an amazing option for PCs that run in Windows OS. In fact, it is compatible to run with Windows 7/8/10/Vista/XP and all other wireless AC 802.11ac routers, access points and extenders that are both manufactured by Linksys and Belkin.
There is no problem with its installation because this wireless adapter also comes equipped with a CD setup wizard just in case assistance is needed. Still, this is not really much of a need since all you need to do is install the adapter by connecting it directly to the router, and install the free Smart WiFi App.
This model also features a very portable design, which means that it can be transported easily with you, placing it in your jeans pocket or anywhere in your bag. On top of that, it features 128-bit encryption, which means that all of your data will be safely protected.
This adapter also allows users to experience high-quality and fast HD browsing and video streaming. It is also ideal for gaming, as it reaches up to 867 Mbps on the wireless AC 5GHz band while running on 300 Mbps on its wireless N 2.4 GHz band.
TRENDNET AC 1900 – Secured Wireless Adapter
The Trendnet AC1900 features a high power ratio that comes with a detachable high-gain antenna. The purpose of this antenna is to increase wireless coverage, making you even feel freer as you select the place for net browsing.
It also features a fast USB 3.0 and USB 2.0 share ports, with favorite one-touch network connectivity along with the WPS button. It is also pre-encrypted to ensure convenience, allowing the establishment of an isolated guest network.
On top of that, it also features 2 wireless networks that are concurrent, one is the 1.3 GB Wireless AC network, while the other is a 600 Mbps Wireless N network that allows for the connection of common wireless devices.
It also uses targeted Beamforming technology, along with the option to use parental control.
NET-DYN AC1200 – Dependable and Affordable Wireless Adapter
The manufacturer of this wireless adapter, Net-Dyn combines together quality and reasonable price in their products. The goal is not just to provide affordability to the wide coverage of customers, but also to offer convenience.
It features a dual-band technology, which means that you have both the 2.4 GHz and 5.0 GHz connectivity. It offers a 9-meter coverage. This wide distance only means you will not be trapped in your own WiFi, with a chance to enjoy browsing even when you are quite far from your router. It is also compatible with all types of WLAN routers, including WEP, WPA, and WPA2.
The setup of this wireless adapter is quite simple. In fact, all you have to do before using it is to plug it in, installing the drivers. The adapter is friendly and compatible with most OS, which means that there will not be any problems whether you have Mac or Windows operating system. Linux owners, however, will need more time to install additional drivers.
OURLINK 600Mbps AC600 Dual Band USB WiFi Dongle & Wireless Network Adapter – Miniature Design
This adapter is known for its affordability. It does not mean, however, that quality and features have been compromised. In fact, it comes with the best features that you need for a wireless adapter.
One of its best features is its miniature design. Its small size makes it easy to use and portable. You can easily plug it in your laptop or PC, and will not need to remove it as you move around with your computer.
Setup is also easy. There is no need to spend a whole lot of time to set it up, even as simple as plug and play.
With its dual-band wireless connectivity, you can expect an impressive 150 Mbps for its 2.4GHz band, as well as 433 Mbps for its 5GHz. Switching between the bands is possible.
Panda Wireless PAU06 USB Wireless Adapter – Lightweight Plug and Play
Despite being a newcomer in this industry, Panda is successful in introducing a network adapter that comes with a minimalist design. In fact, this adapter only comes with a weight of 45 grams.
If you are running on Windows 10, you will enjoy the most out of this adapter. With this OS, you can enjoy its plug and play features. There is no need to install any software just to start it.
The signal strength that is also introduced by this model is also impressive. This provides the assurance that connectivity will never be an issue. Reviews from others who have used this wireless adapter before enjoy its strong signal.
Another bonus of this wireless adapter is affordability. In fact, it is generally more affordable than other models.
Buyer's Guide – How to Choose the Best Desktop Wireless Adapter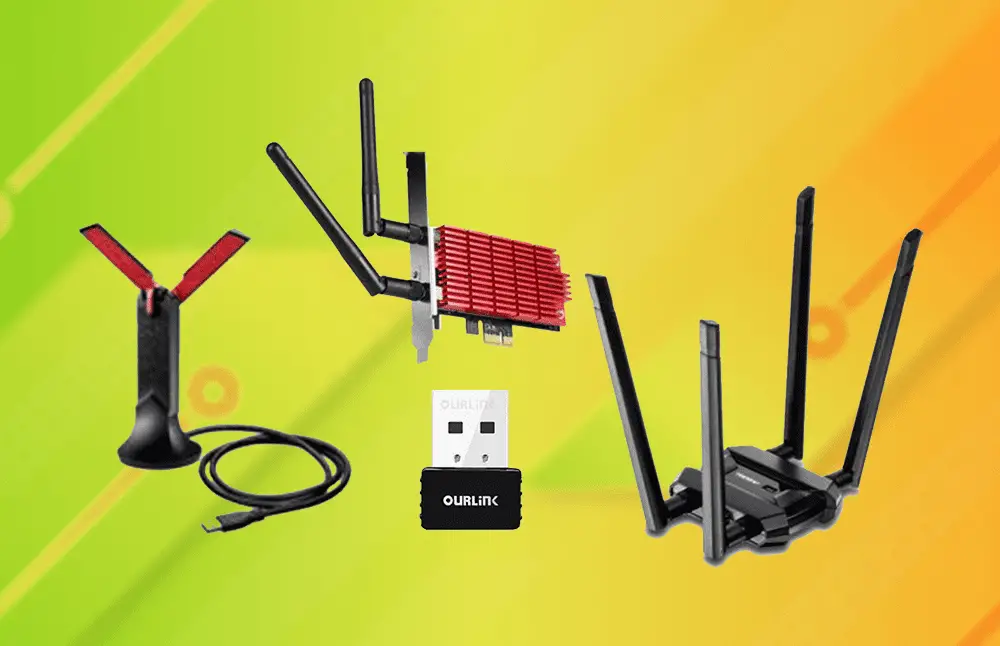 When it comes to getting the best desktop wireless adapter that will address your needs and preferences, certain factors need to be taken into consideration. This includes the following:
When it comes to wireless adapters, the size varies. Some even come in the form of a Lego block in size, while others are as huge as a router with antennas. Your decision on size depends on your preferences and needs. If you are searching for something that is quite portable, you may opt for those with small sizes, as they also work well at normal ranges. On the other hand, you may also want to consider getting the bigger ones since they usually come with advanced features such as beamforming technology that makes it effective for diverting interference.
Your success in connecting highly depend on where your router is located. This means that investing in an adapter that offers a longer range often comes in handy if the location is far enough. Among the best options will provide you with up to 100 yards of connectivity range, though extending it away from your desktop may also help in improving the range.
A buffering stream is very frustrating. This means that when getting a desktop wireless adapter, it is very important to get an adapter that offers speeds that are fast enough for your personal requirements. For some, 300Mpbs is enough to complete most tasks. Others, however, can offer up to 1300Mbps, even though for these ones, you will need a 3.0 port USB in order to benefit from the higher speed.
It is important to keep in mind, however, that a high-speed adapter may only be useless if you are only getting it to connect to coffee shops and airport public hotspots since they do not generally offer fast internet performance.
When considering this factor, it is important to consider the tasks that you need to do the most when you are downloading. Throughput is important in streaming videos and downloading updates at the quality that you are paying for.
The only way to get to the bottom of the throughput of the options is to test them out. While there may be reviews that are available online, testing them by yourself will allow you to see how they could do in an actual home.
Conclusion
If you are currently struggling with the incorporated WiFi on your desktop, then a good option is to get a desktop wireless adapter. As seen in the list above, there are available in a wide range of designs and types. They can be used in adding WiFi to a computer which does not have its own, or simply to upgrade your WiFi connectivity if you see that your internal antennas are not doing well. By choosing from the list above, you can finally enjoy better connectivity on your desktop!