Nikon is known all over the world as one of the best names in digital cameras. It's a guarantee that a Nikon camera will give you the sharpest and the most amazing details, which is why professionals and enthusiasts rely on Nikon for their gear. And when it comes to compact HD-SLRs, two Nikon greats D3300 and D5300 are ready to take you to the next level. Let's find out whether the D3300 or the D5300 is better in this comparison review.
Check out the Nikon D3300 and D5300
Nikon D3300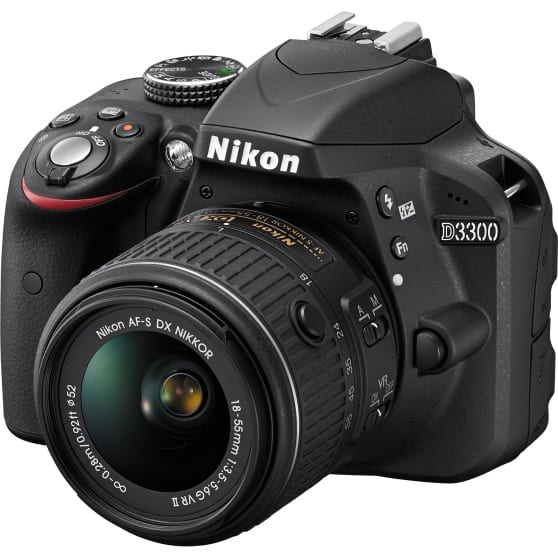 The Nikon D3300 is a compact, ready to use HD- SLR that comes with loads of impressive features that will amaze any digital camera user. Released in 2014, it's small but powerful and can capture 24.2-MP photos and Full HD 1080p videos in vibrant tones and soft backgrounds. With an optional WU-1a wireless adapter, you can instantly share your files with your smartphone. You can use the D3300 to create a high-quality resolution, panoramic shots, and special effects.
Pros
Will capture high quality images
With basic functions but is recommended for the first time digital SLR users and pros
Ready to shoot
Can capture quality videos
Can shoot panoramic shots, special effects, etc.
Cons
Does not have a retractable fixed screen
Has no Wi-Fi and GPS feature
Nikon D5300
Meanwhile, the Nikon D5300 is a Wi-Fi-enabled, high-resolution HD-SLR that will capture life-like photos and 1080p full high-definition videos with its amazing 3.2-inch swiveling display. You'll get amazing views from any angle with this sleek and compact HD camera. Nikon calls this its new generation Wi-Fi cameras for instant photo sharing. It offers a new quality image for richer, true to life images for your enjoyment.
Pros
Comes with Wi-Fi connectivity
Has a retractable screen
Comes with GPS features
May be used in various photography projects
With a slightly lower battery time at 600 shots
Cons
An SLR that's slightly heavier
Slightly more expensive
The Nikon D3300 and D5300 are two top Nikon cameras that guarantee the impressive reproduction of any image. These are also lightweight cameras that you can carry anywhere with ease.
Features face to face
First impressions
The Nikon D5300 looks almost identical to the Nikon D3300. Both come in stunning black with a large 24MP APS-C (23.5 x 15.6mm) CMOS sensor. The body is sleek, resistant to scratches and bumps, and is overall classy to take anywhere. The most obvious difference is the D5300 comes with a 3.2" fully-articulated screen while the D3300 has a fixed screen. The D5300 has been replaced by the D5200, while the Nikon D3300 has been replaced by the D3200.
Physical specs and body
The size and the weight of a digital camera are very important, especially if you plan to use your camera for work or for your hobby. The Nikon D5300 measures 125 x 98 x 76 mm, while the D330 is an inch shorter at 124 x 98 x 76 mm. The D5300 is also heavier at 16.93 ounces or 1.06 pounds, while the D3300 is only 15.17 ounces or 0.95 pounds. These slight differences could mean a lot, especially when you carry your gear for a longer period.
Also, take note of the camera lenses when you're buying a digital camera. It's likely you need to carry these all day and thus will add to the weight of your camera and other accessories. Investing on a lighter camera will allow you to carry a variety of lenses and accessories anywhere.
Both the Nikon D5300 and the D3300 have any weather sealing features. Therefore, you must be careful when you're taking photos outdoors in wet or humid weather.
When it comes to the LCD screen size and screen features, the D5300 has a 3.2 LCD screen, which is slightly larger than the D3300. The D5300 has an articulated screen that you can move and position according to your preference. This makes the D5300 more flexible compared to the D3300.
Comparing camera sensors
When it comes to the type of sensor, the Nikon D5300 and the D3300 have the same APS-C 24.0 MP resolution high quality sensors. Both cameras lack low-pass filters. Getting rid of anti-alias filters increases sharpness and detail but may increase the possibility of developing more. Both have the same sensor sizes; therefore, these give the same control in the field depth used with a similar aperture and focal length.
For what type of photography
When comparing the two cameras according to the type of photography, the two received almost similar results. For portrait photography, both the Nikon D5300 and the Nikon D3300 performed averagely as both have large APS-C sensors and very high-resolution sensor, optical viewfinder, good handling, and ergonomics but lack image stabilization features.
The Nikon D5300 is better at street photography than the Nikon D3300 because, aside from its other features, it has a fully articulated LCD screen. This type of screen helps you focus your camera better to capture difficult street photography shots.
For sports photography, the Nikon D5300 ranks higher because it has a higher number of focus sensors and focuses points, better low light ISO, and wireless connections. With the D5300, you can instantly send pictures to your smartphone and other compatible devices for more efficient editing.
The Nikon D5300 and the D3300 rank equally when it comes to daily photography and landscape photography.
Available lenses
Does the Nikon D3300 or the D5300 have more types of lenses? Both cameras have the same F Lens Mount with more than 300 native lenses for the two cameras. You must consider purchasing lenses for optical stabilization. There are 100 lenses available that have image stabilization features compatible with the Nikon F mount.
Stand out features
As you can see, the Nikon D3300 and the Nikon D5300 have almost identical features and accessories, but there are some features that make the Nikon D5300 stand out.
The D5300 has Wi-Fi capabilities; therefore, it's easier to share photos and videos the moment you capture them. With Wi-Fi features, it's also easier to download updates and to connect with other devices without the need to use wires.
The D5300 has a built-in GPS, which will allow you to track your location. You can take photos and tag your location before sharing them online. And finally, the D5300 has a movable viewfinder which you can adjust according to your needs. A movable viewfinder allows you to focus your camera accurately according to your subject.
Conclusion
So is the Nikon D5300 or the D3300 is for you? Let's first make a roundup of the pros and cons of the two.
Choose the Nikon D3300 if…
You want a basic SLR camera that's great for taking outdoor shots, landscapes, sports shots, and more. It has a powerful lens, bright and vibrant non-movable screen at the back and easy to use controls. It is for novice users and professional photographers as well.
Choose the Nikon D5300 if …
You want a better version of the D3300 as this digital SLR camera is able to connect to the web using Wi-Fi while the D3300 can't connect wirelessly. If you want a versatile, movable screen, then the Nikon D5300 is for you. It has a retractable screen that you can move forward or side to side to adjust according to your needs. The Nikon D5300 is for you if you need a GPS tracker feature, but if you're willing to settle with a basic camera, then the D3300 is a good camera to consider.
Remember that the Nikon D3500 is
A digital SLR with Wi-Fi connectivity
A digital SLR with a retractable screen
A digital SLR with GPS features
An SLR that can be used in various photography projects
An SLR that's slightly heavier
An SLR with a slightly lower battery time at 600 shots
Remember that the Nikon D3300 is
An SLR with a non-retractable fixed screen
An SLR with no Wi-Fi and GPS features
An SLR that can capture high quality images
An SLR with basic functions but is recommended for the first time digital SLR users and pros
Discover what a Nikon D3500 and a D3300 can do by understanding your needs as a photographer. The right SLR camera will give you the best results, whether you're a hobbyist or a professional photographer.